We may earn commission from links on this page, but we only recommend products we love. Promise.
13 Best Microfiber Hair Towels and Wraps for Faster, Smoother Drying
Repeat after me: Rough bath towels are not for hair.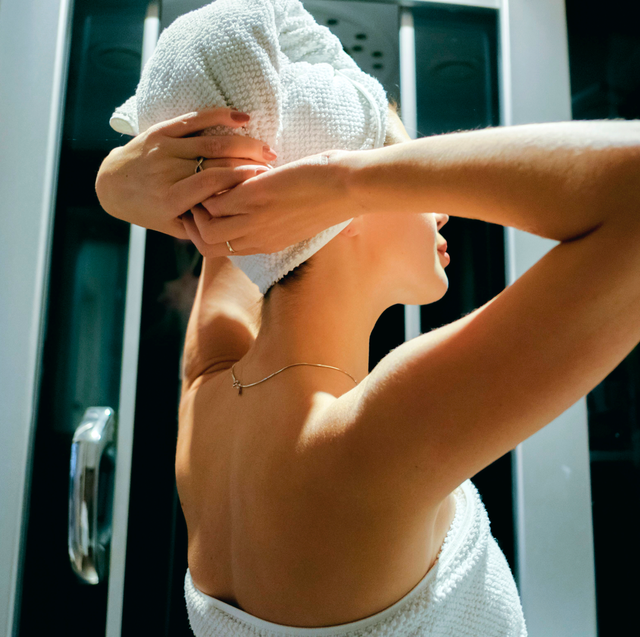 Getty | Aliyev Alexei Sergeevich
I know you've heard it again and again, but microfiber hair towels are truly one of the easiest, most game-changing swaps you could make in your hair routine—and that's extra true if you've got curly hair (hi, me), damaged hair, or hair that's prone to frizz and flyways. Regular terry-cloth bath towels have little nubs that rough up your hair cuticle as it dries, leaving you with tangles, flyaways, and less-than-healthy strands over time. Microfiber towels, on the other hand, absorb excess moisture to speed up drying time and also minimize friction in the process.

The result? Smoother-looking hair (and more defined curls), which will create a better foundation for your styling routine, whether you're letting it air-dry, diffusing it, blowing it out (with, ahem, some heat-protectant spray, of course). Still, as with all good things, there's a ton of options to choose from. So to help you narrow down the choices, check out these top picks, below, then keep reading for tips on how to pick the best microfiber towel for your hair type, plus our full breakdown for 2022.

Our top picks for the best microfiber hair towels of 2022
What to look for when choosing a microfiber towel
The size, design, and closure type
Microfiber towels tend to fall into two camps: basic rectangles or squares (like, you know, normal towels), or stretchy head wraps with button or loop closures that allow you to wear them snugly without coming undone. If you're someone who has a ton of hair (hi, my big-curl friends) or has super-long hair, you're going to want an oversize, XXL microfiber towel that won't require you wring or twist your hair tightly to make it fit. Got curly hair? Go for a basic square (if you want to gently scrunch the water out of your hair), or a stretchy hair wrap to wear on the days you're blowing out your hair.
The material
Listen, if you're here looking for microfiber towels, you probably have an end goal of less flyaways/tangles/frizz/damage. Great. But I'm not going to lie and say microfiber towels are the only material that'll get you the results you want. You can also get smooth, moisture-absorbing results from cotton or polyester blends. Yes, microfiber will dry your hair the fastest and absorb the most amount of water, but they're not the only choice in your hair-drying journey.
Got all that? Good. Now keep reading for the best microfiber hair towels of 2022, below.
This content is created and maintained by a third party, and imported onto this page to help users provide their email addresses. You may be able to find more information about this and similar content at piano.io