Human physiology and bike sizes have a lot in common, both of them come in different shapes and sizes. No matter what kind of bikes they are, they will be available in every shape and size. Although, that is considered a double-edged sword, as finding the perfect mountain bike for you can become quite tricky.
Some people think that bike sizes don't matter much, that isn't true. Bike sizes are very necessary to be put first, get the wrong one and it can lead to injuries. If you get it right then years of enjoyment await you, maybe even more than that.
Bikes and comfort are co-related if you haven't noticed, a good bike will reflect well on your comfort. In order to get the best out of your bike, you need to be well-educated on the matter, have all the necessary information, and then make the perfect purchase.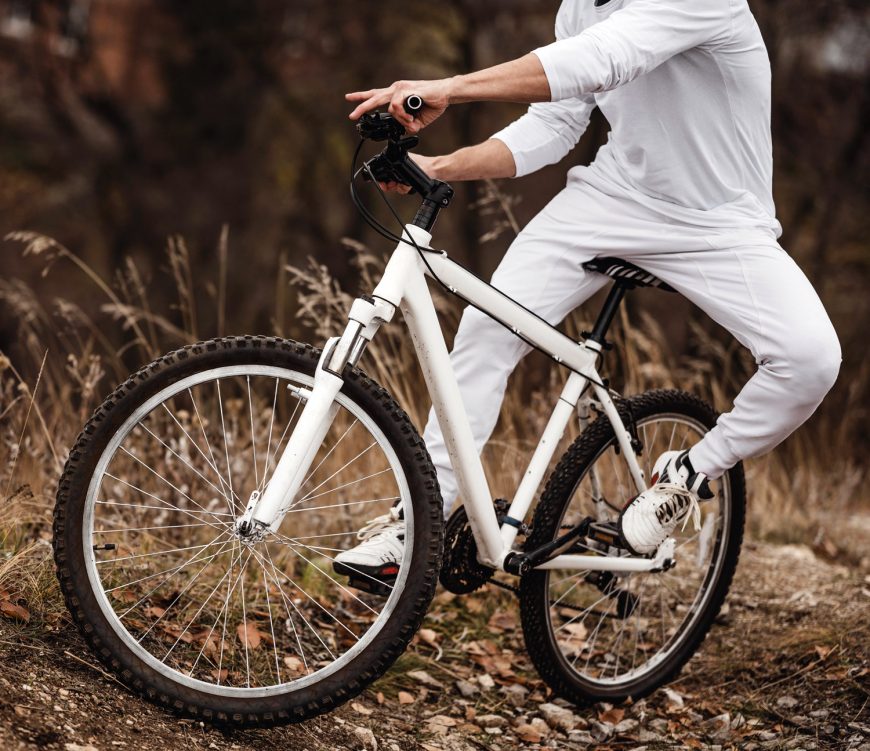 Looking at bike sizes is great and you should definitely do that, although before you get started with that, it is useful to clarify that kind of riding you would be doing so that a feasible mountain bike can be chosen.
Mountain Bike Size Chart
Over here, you will find an approximate mountain bike size chart, some values may be different by points but you can make the perfect purchase with this information.
How To Use: Using a bike size chart is very easy, just use your respective height and leg inseam to match the perfect bike size. Plus, don't forget to try before you buy for a perfect fit.
| | | | |
| --- | --- | --- | --- |
| Size | Seat Size | Height Limit | Leg Inseam |
| XS | 13''-14'' | 5'-5'3" | 28" |
| S | 14''-16'' | 5'3-5'7" | 29.5" |
| M | 16''-18'' | 5'7"-5'10" | 31.5" |
| L | 18''-20'' | 5'10-6'1" | 33"-35" |
| XL | 20''-22'' | 6'1"+ | 36"+ Beyond |
Women's Mountain Bike Size Chart
Women's Mountain Bikes are actually shorter in comparison to their counterparts. There isn't that much of a difference but I would suggest that you always get your hands on a unisex mountain bike.
How To Use: Using a bike size chart is very easy, just use your respective height and leg inseam to match the perfect bike size. Plus, don't forget to try before you buy for a perfect fit.
| | | | |
| --- | --- | --- | --- |
| Size | Seat Size | Height Limit | Leg Inseam |
| XS | 13''-14'' | 5'-5'3" | 28" |
| S | 14''-16'' | 5'3-5'7" | 29.5" |
| M | 16''-18'' | 5'7"-5'10" | 31.5" |
| L | 18''-20'' | 5'10-6'1" | 33"-35" |
Kid's Mountain Bike Size Chart
Kid's Mountain Bike is almost the same as the adult size with few tweaks around the edges. Just think of them as miniature adult bikes.
How To Use: Using a bike size chart is very easy, just use your respective age and leg inseam to match the perfect bike size. Plus, don't forget to try before you buy for a perfect fit.
| | | | |
| --- | --- | --- | --- |
| Wheel Sizes | Age Limit | Height | Inseam Length |
| 12'' | 2-3 | 2'10"-3'4" | 14-17" 35-42 cm |
| 14'' | 3-4 | 3'1"-3'7" | 16-20" 40-50 cm |
| 16'' | 4-5 | 3'7"-4'0" | 18-22" 45-55 cm |
| 18'' | 5-6 | 3'9"-4'3" | 20-24" 50-60 cm |
| 20'' | 6-8 | 4'0"-4'5" | 22-25" 55-63 cm |
| 24'' | 8-11 | 4'5"-4'9" | 24-28" 60-72 cm |
Mountain Bike Frame Guide: How Are They Actually Measured?
With the information made available to you, it is quite straightforward and easy to make the best purchase. Almost all the manufacturers have made sure that finding the right size bikes is easy and seamless. If you are shopping online then different size charts are made available so that there is no trouble in finding the right sized bike.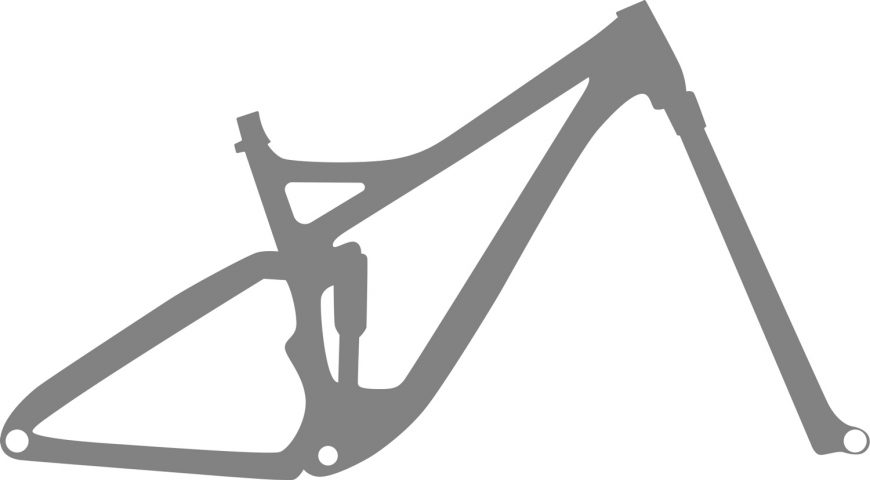 There are although two things that you need to consider very carefully while looking for a new bike.
Top Tube Length
The first thing that needs to be considered is the top tube length of the bike. The overall length will then determine your level of comfort and how well you can handle the bike. The length should be balanced so that it doesn't feel that cramped or loose.
Seat Length
The second thing to look out for is the seat length. The seat length actually determines the distance between the bike and you. Although this depends from bike to bike, especially the ones with longer suspension. Having a good amount of length proves beneficial to new riders as it gives them breathing space.
Check out: Bike Frame Size Calculator
Mountain Bike Geometry
You need to get acquainted with mountain-bike geometry, which is the whole construction in order to make the perfect purchase. Bikes have many different measurements that directly impact the feel, handling, and overall performance.
Sometimes different terrains will require bikes with different construction but that is a topic for another time. Although there are many different measurements to look out for, there are two main critical ones and they are known as Stack and Reach. Let us discuss them in detail!
Mountain Bike Reach
The Reach measurement is by far the most important one that you have to consider when choosing a bike for yourself. Reach is the horizontal distance between the headtube and the cockpit (seat). This affects the pedals and makes sure that you have a great riding position.
Mountain Bike Reach has to be balanced, it doesn't need to be too long or short. Weight also plays a factor over here, try out the bike that you are planning to purchase to figure out if the reach is comfortable or not.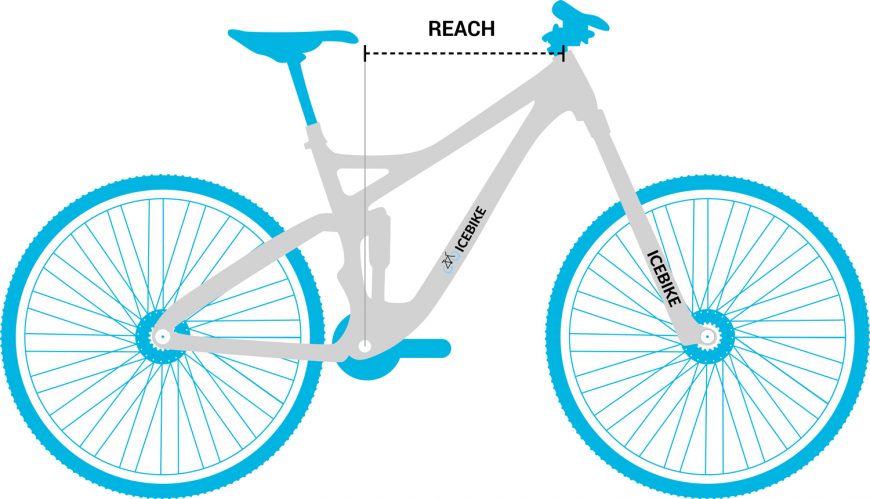 Mountain Bike Stack
The next thing that you need to consider is the stack. Stack is the vertical distance between the bottom bracket of the bike and the head tube center. This affects the pedaling position and makes sure that the handlebar height is fine. When it comes to mountain bikes, in order to maintain an upright and aggressive seating position, the reach will always be prioritized over the stack.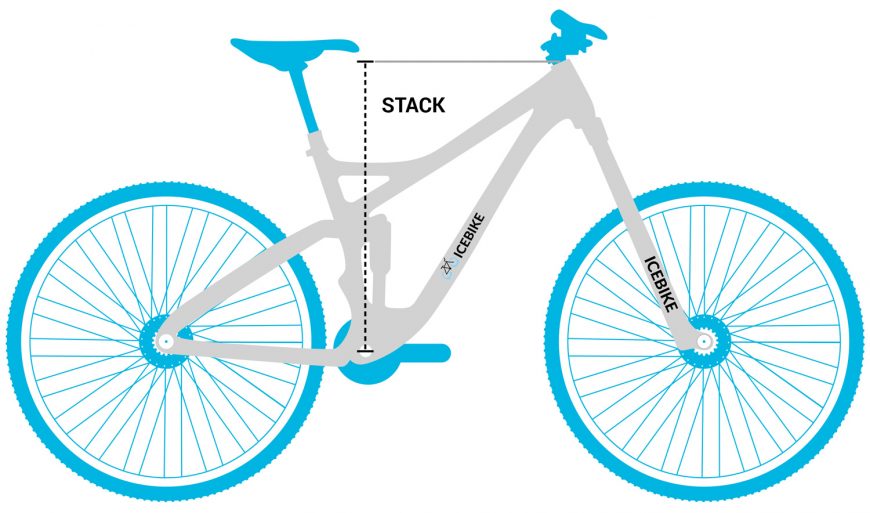 Mountain Bike Head Tube Angle
The next thing that you need to know about mountain bikes is the head tube angle. It is the vertical distance between the front fork of the bike and the ground, very easy to find out and measure. The Head Tube Angle is the main aspect that the industry uses to determine and customize front-wheel characteristics.
Head angles are mainly adjusted between 65 and 70 degrees, Slacker measurement would be 65 whereas the Steep would be 70. If you want to be more comfortable with your bike and also enjoy higher speeds then go for the slacker measurement.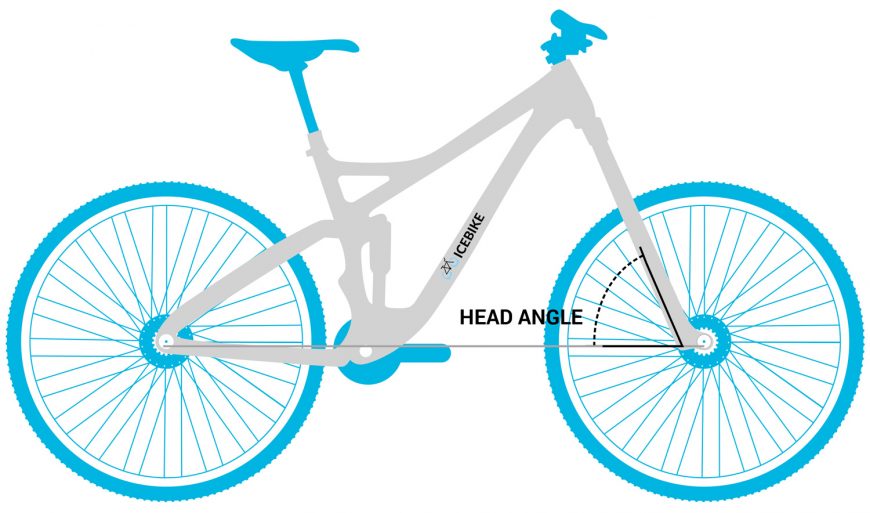 Mountain Bike Chainstay Length
When we talk about the Chainstay Lengths of mountain bikes, they will vary from person to person. It is the distance between the rear axle of the bike and the rider's center of mass, or in simpler words-the pedal area. Having a shorter chainstay allows the rider to be more dynamic. This means that riders have more flexibility in their movements.
If you want more stability then the best approach would be to go for a longer chainstay length. As I said before, the chainstay is completely in the hand of the rider.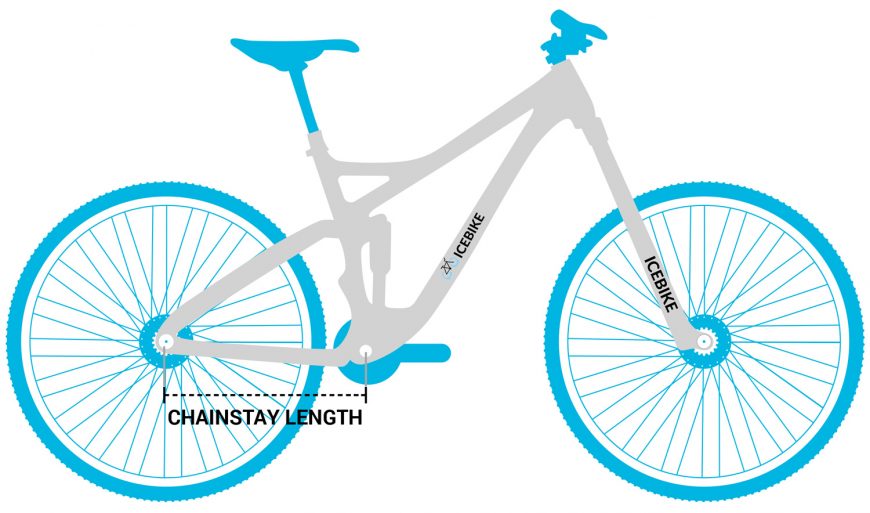 Mountain Bike Bottom Bracket Height
Everyone would be wondering about the Bike's bottom bracket height. It is simply the distance between the cranks and the ground. This just shows how low the rider's body mass is, consider this the same thing when you lower your sports car or any other vehicle.
This can become either easy or rough on terrains, meaning that the lower bottom bracket will chip away rocks or any other type of obstacles fast. Only consider doing this when you are a professional and can handle any kind of terrain anyway.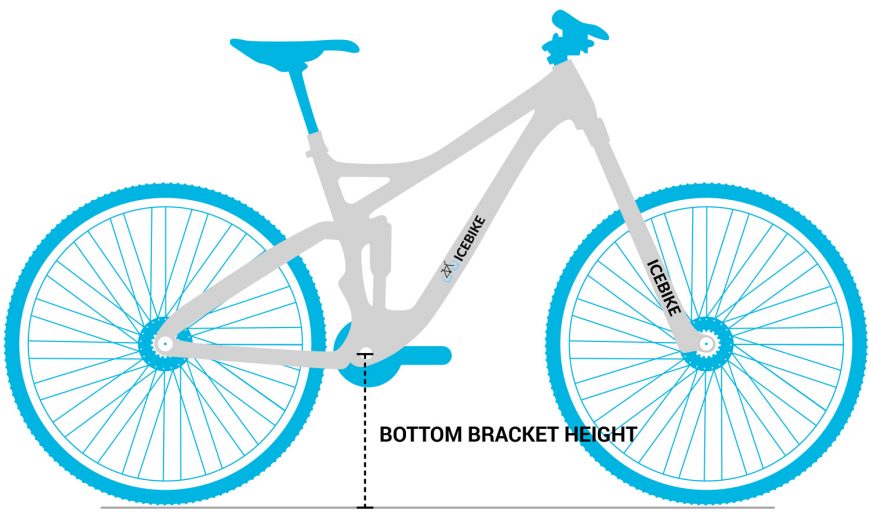 Mountain Bike Wheelbase
A bike's wheelbase is basically the distance between the front and rear axles, the wheelbase is in charge of maintaining the stability of the bike and promoting good handling. If the wheelbase is shorter then the bike becomes easier to maneuver. This is another preference left to the sole decision of the rider.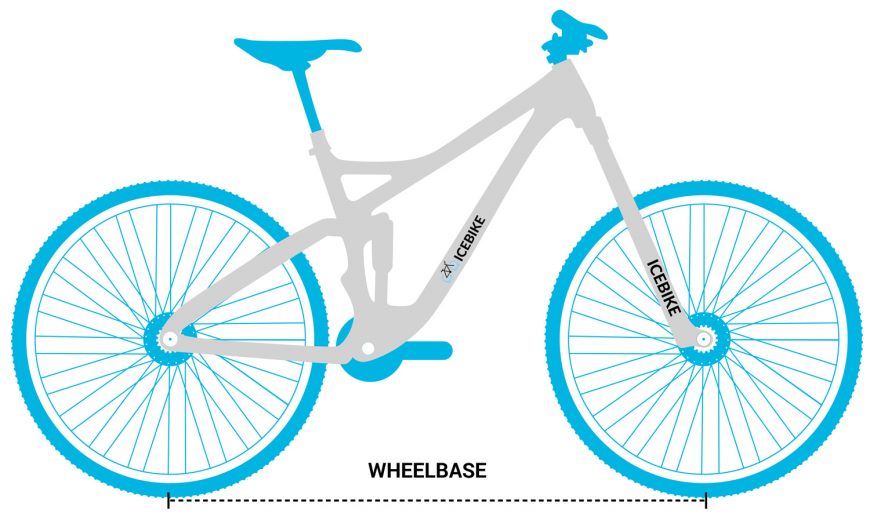 Is Mountain Bike Geometry Important?
The whole construction of mountain bikes is important as it affects how smooth the ride is. Every tube no matter how it is aligned affects the bike's geometry and makes it better. In order to find the right kind of geometry, you must first figure out what kind of riding you would be doing.
For example, if you have enduro to trail bikes then a 71-degree seat tube and the 67-degree head tube would be perfect.
Try Before Your Purchase- Demoing Is Necessary
Just like you would try out a new T-Shirt or a pair of jeans, it is also very necessary that you try out your new bike. You would be surprised to look at the results, get yourself familiar with your bike and all would be well. If there are any problems to look out for then you can get them checked.
Demoing is very necessary, even some flaws can come in the limelight when you try out the new bike. If you are comfortable with it then go ahead and make the purchase, if not then you can always opt for another one.
Bike Sizes- Sizing Up or Sizing Down?
Everything seems perfect now that you have checked your height and other information against the bike size chart of different manufacturers. After having all the information, you are still presented with two options- Size up or Size down?
Sizing Up Explained
Reach is what matters whenever you are thinking of either sizing up or sizing down. You would be surprised to know that almost all the bikes in the market are trying to get low as possible. If you didn't know, Reach is the difference between the seat or if you would like to say cockpit of the bike to the head tube.
The wheelbase also gets longer when you size up the bike, this means that you can go for an aggressive approach easily. Sizing up works perfectly for those that have a tall torso and want to enjoy racing or riding to its limits. The main highlights/benefits of sizing up are:
Increased range of motion in the cockpit
Increased wheelbase
You enjoy a neutral fit with the bike
You can easily kill any kind of terrain
You can size up your bike if you want to enjoy all the above-mentioned perks.
Sizing Down Explained
If you get a shorter bike then seemingly you also have a shorter reach, now that would be beneficial for some as it would be not so feasible for others. You will have to sacrifice your stand-over height a bit and in order to reach the optimum pedaling position, the seat post also has to be extended.
These changes aren't that much, but you do need to consider that if you are thinking of Sizing down. This size down works best for people that have long legs. The main highlights/benefits of sizing down are:
Increased range of motion in the cockpit but shorter reach
Shorter wheelbase
Comfortable ride
Amazing casual riding experience
You can size down your bike if you want to enjoy all the above-mentioned perks.
How To Get The Right Bike Size
Let's get this straight first, mountain bikes come in different shapes and sizes and that is a great thing. The different sizes like small, medium, and large are very beneficial when making a decision.
In the end, the main decision falls down to your riding style and how well you manage your bike. For example, if you are a medium-sized rider then a medium-sized bike with 100mm suspension would be great. You can play around with that information and land amazing bikes that would perfectly fit you.
Difference Between Road Bikes and Mountain Bikes
You should know that mountain biking and road biking are completely different things. While you are riding on a road bike, it is seamless and you don't even have to change positions. Mountain biking is different, you have to constantly change positions. Fine-tuning isn't an issue with mountain bikes.
The only time you have to pay attention to sizing is if you have unusual limbs, like a long torso and short legs. Other than that you would be fine.
Choosing The Right Wheel Size
People take wheel sizes casually, although they don't affect the fitting of our bike, it is still nice to get acquainted with them. Following are the types of wheel sizes that you would come across:
26" Wheels: These are the common type of wheels, offer fast acceleration but not suitable for bumpy roads
29er Wheels: They are also fast and do a good job of rolling over obstacles
27.5/650b Wheels: They are like the 29er wheels but smaller, can withstand almost anything
Plus-Sized Wheels: They are basically fatter tires and offer more grip
Read more: Bike Tire Size Chart
Great Tips For A Perfect Fit
Sometimes a bike might seem weird but when you actually try it, it feels perfect and fits like a glove. There is no explaining that feeling. Although with that said, there are some tips that we would like you to follow:
Be in favor of comfort always
Get a perfect size, there's no need to be over-stretched
Make sure that you have to lean forward to grasp the handlebar, otherwise, the bike could be too small for you
Try pedaling backward, make sure it is comfortable
Demoing is very important
Take it slow and easy
Follow these guidelines and everything should be peachy once you get to try out your new bike!
Other Bike Guides:
Recap
Mountain bikes and their size charts are a very big topic to discuss. There are tons of things to share that cannot be fitted into one piece, but we have shared enough that should allow you to make the best purchase for yourself. Although the information is very necessary, nothing beats demoing, you should always give the bike you want to purchase a swirl.