This pandemic has taught people a lot, it has taught the value of life, the value of perseverance, and certainly the value of nature. Sometimes, you have to give back to nature, and people are actively ditching their cars and motorbikes to use bikes.
When you use bikes, you are not just saving money, but are being one with nature, taking in that fresh air, enjoying the beautiful sceneries, and vistas, and saving yourself the mental frustration of being stuck in traffic or worse. Bikes let you exercise and explore, this kind of freedom is unmatched.
The technological advancement of today has allowed for the production of the most amazing bikes that we have seen yet. You can now easily get bikes that aren't just comfortable but have amazing performance. It does not matter if you have the money to afford them or not, there is something for everyone as budget bikes have taken the market in a storm.
Figuring out the importance of biking is the easiest part, the hard part is deciding what kind of bike would be best for you. If you are a professional cyclist then yeah, it is fair enough to have multiple bikes but others can't do that, they just need one good starting point.
A common dilemma with hobbyists like you and I is, which bike should I go for? If only it were that easy, there is no correct answer to this question as it varies from person to person. The top choice for you would be a road bike or a mountain bike, and in this guide, we will show you the worth of both!
People are different and their needs differ from time to time, that is why only they can decide what kind of bike will suit them the best.
Road Bikes vs Mountain Bikes – Difference In Components
The structures of both Mountain Bikes and Road Bikes are different, there might be some similarities but not a lot!
Road Bikes are light and have no suspension, they offer the best speed in the market, and their structures are made so light that they can perform well on the road.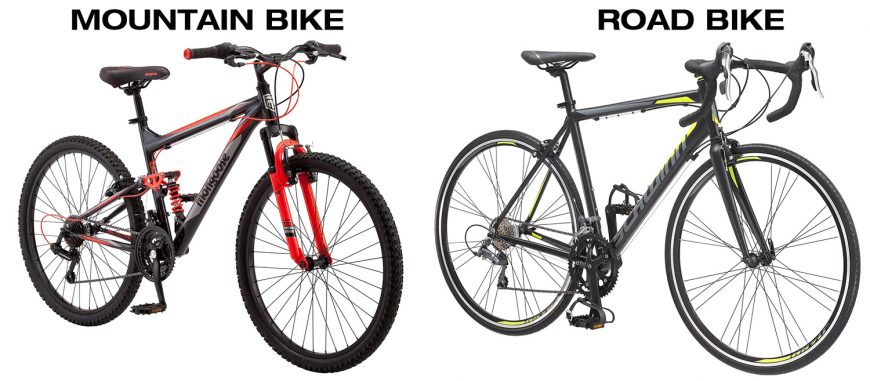 Mountain Bikes on the other hand are versatile and much more durable than Road Bikes. Their structure allows them to climb and descend a hill easily, plus they have tires with tread patterns that allow for better traction on all kinds of terrains.
Both of these bikes are made for different purposes, people are going to choose between the two according to their preferences. Let us take a look at some of the components and see what's different.
Rear Cassette
When it comes to the rear cassette, Mountain Bikes tend to have bigger ones as compared to Road Bikes. In Mountain Bikes you will see multiple gear groupsets so that the force of the bike can be distributed properly. Road Bikes have more individual gears.
Front Derailleurs
If you compare modern Mountain Bikes with Road Bikes, there isn't that much difference when it comes to the front derailleurs. Mountain Bikes have two chainrings in comparison to Road Bikes have three, that's the main difference.
Tires and Wheels
The Wheels of Mountain Bikes are knobblier, this means that they are large and much more resilient. The tires are filled with tread patterns that allow the Mountain Bikes to have superior traction.
Road Bikes have thin wheels and tires, they are light and allow more speed to the rider.
Forks and Suspension
Mountain Bikes have beefy and strong forks to protect them from shocks and vibration, that is why they work so well on off-road trails. These bikes also have suspension for better handling and performance.
Commonly, Road Bikes are without suspension and their forks allow them to be speedy and lightest.
Handlebars
Road Bikes have drop handlebars while Mountain Bikes have wide and flat handlebars. As far as testing is concerned, flat and wide handlebars allow for better handling and control while drop handlebars can be squeezed easily.
Braking System
Mountain Bikes have V-Brakes or Mechanical Disc Brakes while Road Bikes have Mechanical Disc, Cantilever, or Caliper Brakes. You would be using brakes much more often with Mountain Bikes rather than Road Bikes, this is because in a harsh terrain, you don't want absolute stopping power and that could lead to accidents.
Road Bike vs Mountain Bike – What Do I Prefer?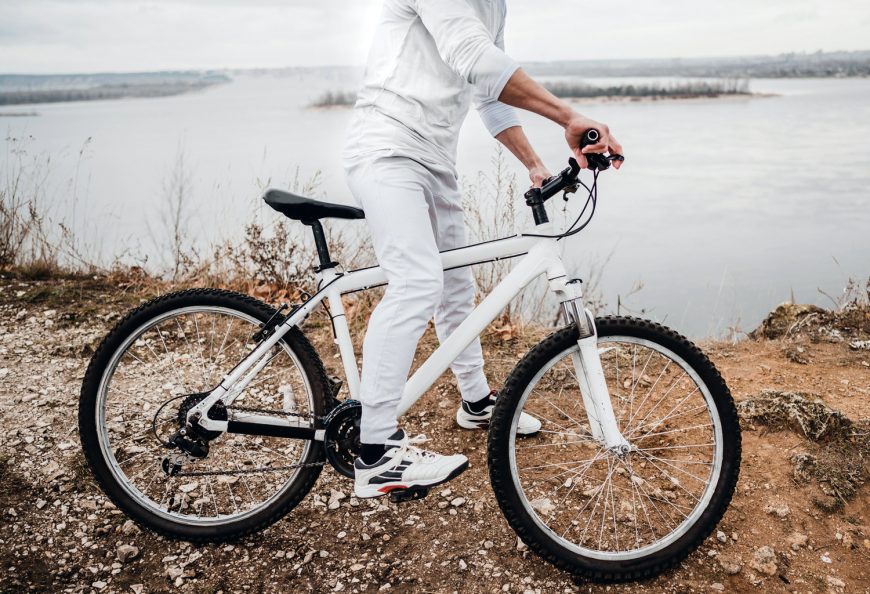 All the avid mountain bikers already know the answer to this one. My choice will always be mountain bikes. As an avid mountain biker, my preference has always leaned toward mountain bikes for several compelling reasons. Chief among them is the fact that road bikes are limited to paved roads, whereas mountain bikes are designed to conquer off-road trails and challenging terrains.
While it's possible to ride a road bike on mountain bike trails by swapping the road bike tires, the fundamental truth remains: a road bike is not purpose-built for the demanding tasks of mountain biking. Off-road riding presents unique challenges that can be incredibly strenuous due to the intense vibrations one experiences.
That's precisely why mountain bikes (MTBs) incorporate a robust suspension system. It's true that this feature adds weight to the bike, but its primary purpose is to effectively minimize the impact of bumps and uneven terrain, delivering a smoother and more comfortable riding experience.
On the other hand, you can comfortably take most mountain bikes for road cycling. It's harder to ride on a mountain bike trail because you have got more rolling resistance. And for that, you need a bike specially built for the task.
However, if mountain biking isn't your preferred activity, road bikes offer a viable alternative. I've compiled a comprehensive list of the pros and cons associated with both bike types to help you determine the best fit for your needs. This way you can easily know your opportunity cost to make a better decision.
Let's figure out what works best for you, a road bike or a mountain bike!
Road Bikes
Road Bikes are also known as Racing Bikes because they are optimized for speed! It does not stop there, road bikes are perfect for daily commuting, going to the office, grocery shopping, etc.
These bikes have narrow tires and that makes it easier to build speed, they can move through pavements very easily, you just need to be careful about obstacles. Road Bikes are selling like hotcakes and all the bike manufacturers are coming up with new ways to make them even better!
Road Bikes Size Chart
| | | |
| --- | --- | --- |
| Size | Rider Height (Feet & Inches) | Frame Size |
| XX-Small | 4'10''-5'0'' | (47cm-48cm) |
| X-Small | 5'0''-5'3'' | (49cm-50cm) |
| Small | 5'3''-5'6'' | (51cm-53cm) |
| Medium | 5'6''-5'9'' | (54cm-55cm) |
| Large | 5-9''-6'0'' | (56cm-58cm) |
| X-Large | 6'0''-6'3'' | (58cm-60cm) |
| XX-Large | 6'3''-6'6'' | (61cm-63cm) |
How To Use Sizing Chart: You can now easily find the perfect-sized bike for yourself or others using the road bike size chart, just follow the rider height and find the right size!
Types of Road Bikes
Road Bikes also have types, they are each suited for a specific reason/purpose. These are the following types:
Race Bikes
Endurance Bikes
Race Bikes
They are the lightest of all the road bikes, they have been constructed in such a manner that they become extremely light so that they can catch speed easily. They have an aerodynamic design and their primary focus is speed, and speed is what you get.
You will find that these bikes have very thin wheels and their frames are stiffer than other bikes.
Gravel Bikes
These are suited for both on-road and off-road trails and offer a balanced amount of speed. Think of it like this, they are race bikes for all kinds of terrains. Their stiffer and more resilient frames allow them protection against rough terrains and they feature knobblier tires.
Endurance Bikes
Endurance Bikes are suited for long-distance travel, most commonly used in professional races like Tour De France. These bikes make sure that the rider maintains their endurance during longer sprints, they are a mixture of speed and comfort.
Touring Bikes
Touring Bikes are suited for long travel, but they don't focus on speed but on comfort only. They are perfect for adventures and exploration, these bikes are also made to last so amazing durability.
Advantages of Road Bikes
If you plan on getting a road bike, then there are plenty of advantages that you would be able to enjoy.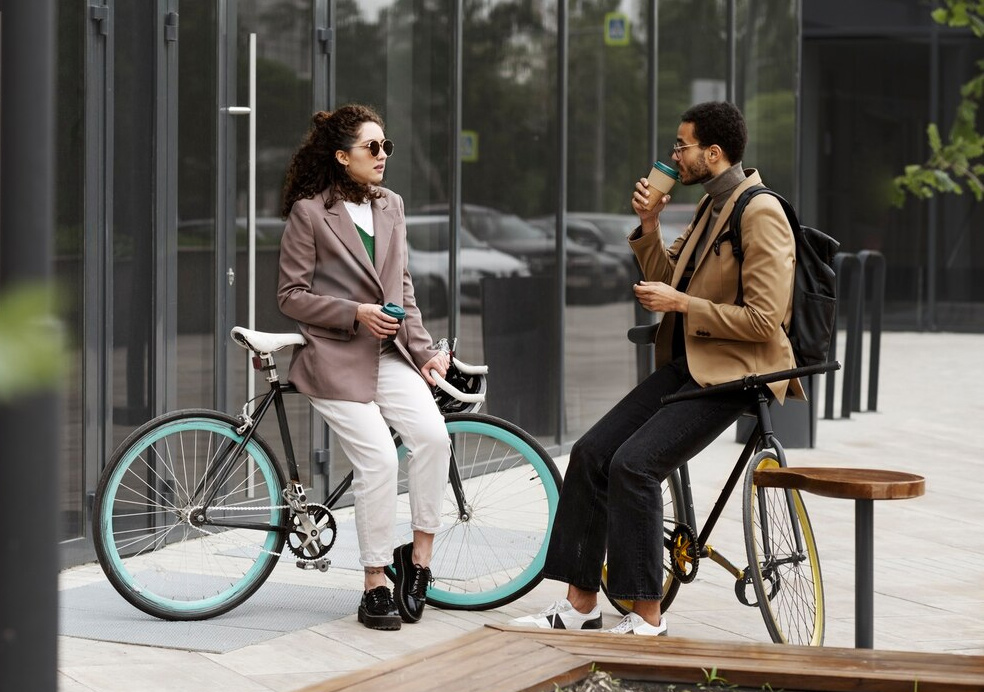 Affordable
A Road Bike is cheaper than having a car, plus it is more effective. Nowadays getting a car can be really expensive and it gets even more frustrating if you keep on getting stuck in traffic. With road bikes, you can easily go to places that you wanted to go without breaking the bank. Trust me, if you have the right bike then even people with cars will get jealous!
Tough-Built
Road Bikes are very tough, you may be thinking that they are constructed with lightweight materials and hence are "Light" but that is not the case. Yes, they are made with lightweight materials but are resilient and heavy-duty.
These bikes are not just made from the usual one-kilometer adventure, they are used for races, tournaments, triathlons, and whatnot. Just take a look at one of the high-end racing bikes and you would know what I am talking about!
Fast
Road Bikes offer the maximum speed, it is the highest among all the other types of bikes. As these bikes use the lightest frames and components, you will get to experience speed like none other.
Less Wind-Resistance
You will notice that these bikes have large-diameter wheels and narrow tires and that is what makes the other riders envious. These bikes allow the rider to sit in such an upright riding position that they don't even have to worry about wind resistance and pedal to the medal!
Rigid Frames
Road Bikes are also considered the "Sports Car" of bicycling world and that is why they have rigid forks and frames. As these bikes don't have any kind of suspension installed in them, the riders can easily ride up hills, maintaining an ergonomic position. The absence of suspension also affects handlebars and, you put your full weight on them and achieve great speeds.
Disadvantages of Road Bikes
If you plan on getting a road bike, then you should be aware of the setbacks that you will likely face.
Not As Tough As An MTB
Road Bikes are tough, yes, but they are nowhere as tough as mountain bikes. Road Bikes have lightweight frames, that allow for maximum speed, even the components installed are there to ensure the best kind of acceleration, but in that process, they tend to sacrifice the actual toughness of the bike.
No Off-Road Riding
If you plan on riding your road bike on any kind of unpaved terrain then that is going to be a difficulty. Road Bikes are not meant to be used on unpaved roads, there are gravel bikes that can be used on off-road trails but you still have to be extra careful while riding those.
Dangerous
Road Bikes are meant to be used for speedy travel, races, etc. If that is not your cup of tea and you like to ride slowly then it would be best suited that you stay away from road bikes. Not only will they become dangerous at high speeds but will also disrupt your peace of mind.
Uncomfortable
Riders that use Road Bikes a lot tend to complain about sharp pain in their necks and wrists, that is because of the upright position that they have to maintain for maximum speed.
The Best Road Bike – 2023
Now that we have talked a lot about road bikes, let me show you one of the best road bikes that money can buy. They look and feel exactly like a dream and there is no reason that you shouldn't get them!
Cannondale SuperSix Evo Hi-Mod Disc
Price: MSRP $11,749.96
Weight: 7.35 Kg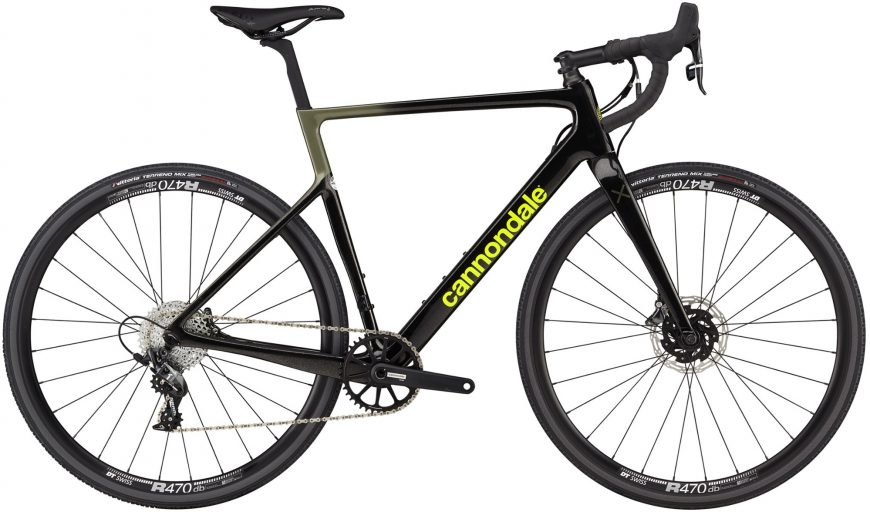 When we talk about the BEST ROAD BIKE, the Cannondale SuperSix Evo is what I mean, this is one of the best racing bikes that money can buy. Launched just before the 2019 Tour De France, the Cannondale SuperSix Evo is an absolute beauty and a beast!
With the Cannondale series, this bike has made a new addition and that is a sloping top tube, we did not see this in the previous models, on top of that their disc brakes have also been improved a lot. If you go for the Hi-Mod Disc Edition then you will find better disc brakes installed. Cannondale has made a lot of improvements, well firstly they have replaced the flat top tube with a sloping top tube. While going with the slim aero top tubes, they have saved themselves 30 watts with this bike and that is quite impressive.
Dropped chainstays are a necessary/staple inclusion to road bikes and that is what we see in this Cannondale model. The frame of the bike has also been improved, there is a flat-backed seat post and seat tube now, something that we wanted with the previous models but never got. As for the tires, you can easily install the 30mm tires, and if you go for the Non-Hi-Mod model you can even opt for 28mm tires.
With the Cannondale SuperSix Evo, you will get to experience the renowned KNOT components, such as the seat post, wheelset, bar, and stem. Plus, they have also improved the cockpit of the bike that riders complained about.
As for the gearing, we have the Shimano Dura-Ace Di2 groupset, you should expect high-end performance. If you can afford it, then this is the dream racing bike that you should definitely have.
Editor's Choice: Cannondale has launched an amazing racing bike and it is just pure eye candy. What I like about Cannondale the most is its dedication to its products and customer satisfaction. With this bike, we can easily see what they have improved and that they actually do listen to customer feedback. With amazing components like the Shimano Dura-Ace groupset, there is no reason that you should pass on this bike.
---
Mountain Bikes
Mountain Bikes are made for dirt trails and different kinds of terrains. You will find them to be much more versatile and durable than any other kind of bike. Their construction is completely different and that is one of the reasons that make them unique.

Mountain Bikes have wider handlebars in comparison and their forks are shock-proof. These wider handlebars allow for enhanced handling and the overall construction of the bike protects the rider from vibrations and other kinds of shocks. While riding a mountain bike, you don't need to worry about pebbles or twigs on the road, as these bikes can handle all kinds of terrains.

Other components include wide tires, hydraulic disc brakes, and drivetrains that can handle any kind of hill, may it be ascent or descent. Mountain Bike tires are filled with tread patterns, which allows for better traction on all kinds of terrain, this is something that you won't find in road bikes.
Mountain Bike Size Chart
| | | |
| --- | --- | --- |
| Size | Rider's Height (Feet & Inches) | Frame Size (Inches) |
| X- Small | 4′ 10″ – 5′ 2″ | 13″ – 14″ |
| Small | 5′ 3″ – 5′ 6″ | 15″ – 16″ |
| Medium | 5′ 7″ – 5′ 10″ | 17″ – 18″ |
| Large | 5′ 11″ – 6′ 1″ | 19″ – 20″ |
| X- Large | 6′ 2″ – 6′ 4″ | 21″ – 22″ |
| XX- Large | 6′ 4″ + | 23″ + |
How To Use Sizing Chart: You can now easily find the perfect-sized bike for yourself or others using the mountain bike size chart, just follow the rider height and find the right size, check the detailed guide here.
Types of Mountain Bikes
Just like road bikes, there are also different types of mountain bikes. All of them are suited for different terrains and purposes. These are the following types:
Cross Country (XC)
Trail
Downhill
Cross Country (XC)
They are mountain bikes are the most common type of mountain bike that you will find. They can be used for longer durations and are best suited for off-road trails. These bikes are for those riders that prioritize pedaling performance over anything else.

These uphill-killer machines are made to provide top-level endurance and efficiency. Construction-wise, they are very familiar with road bikes, if you want to spend a long time on the trail pedaling then the Cross Country Bikes are best for you!
Trail Bikes
Trail Bikes are the original version of Mountain Bikes, consider them the "Jack Of All Trades" Trail Bikes, because of their construction and climb and descend any kind of hill without sweat and that is where the beauty lies.

You will find that these bikes come with suspensions and components that are gravity friendly, some examples of those components are beefy brake rotors and tires with amazing traction. Even their geometry is better than all the other bikes, making them better for all kinds of terrains.
Enduro Bikes
Enduro Bikes are a mix between road bikes and mountain bikes. These racing mountain bikes are the epitome of "Endurance". Enduro Bikes are perfect for those riders that love pushing their pedals to the test and going all ham on all sorts of technical terrain.

If you want to use these bikes for fun-packed laps in the park then that is yet another option. The geometry of these bikes favors descending the hills more than ascension, which is understandable as they are also focused on racing. You can expect these bikes to have a longer wheelbase and low bottom bracket.
Downhill Bikes
Downhill mountain bikes are best suited for jaggy terrains, drops, jumps, and also speed. With these bikes, you are going to have rough but wild adventures.

As the name suggests, these bikes are only made for going down, don't even think about climbing any kind of hill with the Downhill bikes. The tires of these bikes are only made for great traction and durability, they are also equipped with 2-ply casings for enhanced traction.
Advantages of Mountain Bikes
If you plan on getting a mountain bike then you can enjoy the following benefits.
Adventures!
One of the reasons why I love mountain bikes is because they allow you to have unique adventures and complete challenges. This enables the body to produce certain chemicals that make you feel relaxed and satisfied.

A really good example is Serotonin, which is a monoamine neurotransmitter that relieves stress and depression.
Durable
These bikes are extremely durable. The mountain bike frames and components allow them to take more abuse than other bikes.

You can think that mountain bikes have hard shells and it takes a lot to crack them, where you would actually be careful about debris and twigs on the ground, there are no worries like that with mountain bikes.
Great Traction
Enjoy great traction with Mountain Bikes, their tires have tread patterns that allow them to have great levels of traction on different kinds of terrains. Even if it is a really steep hill, with mountain bikes you can climb them very easily.
Extra Suspension
The extra suspension allows Mountain Bikes to be easier to handle, apart from the handling, you will find them to be much more comfortable than road bikes. With full-suspension mountain bikes, you will be able to have comfortable adventures, whenever you want.
Disadvantages Of Mountain Bikes
If you plan on getting a Mountain Bikes then you can be affected by the following setbacks.
Heavy
Mountain Bikes are heavier than Road Bikes. If you were hoping that you were going to get a "light" mountain bike that isn't going to be possible. Sometimes these bikes are so heavy that climbing a hill becomes difficult.
Less Speed
Mountain Bikes do not offer the same speed as Road Bikes, thanks to their construction. They are made with heavier frames and components, as a result, they roll more slowly than any other kind of bike.
Less Effective
They are also ineffective as compared to Road Bikes, this is because of the suspensions they are installed with. Mountain Bike suspensions eat up the pedaling power, which enables resistance. Originally made for off-road trails, they require much more energy and effort to ride on pavements.
The Best Mountain Bike-2023
Now that we have talked about Mountain Bikes, let me show you one of the best Mountain Bikes to have graced us this year. Everything about this bike speaks about performance and quality, let's check it out!
Ibis Ripmo V2 XT- Editor's Choice
Price: MSRP $5,899-$10,999

Weight: 14.1 Kg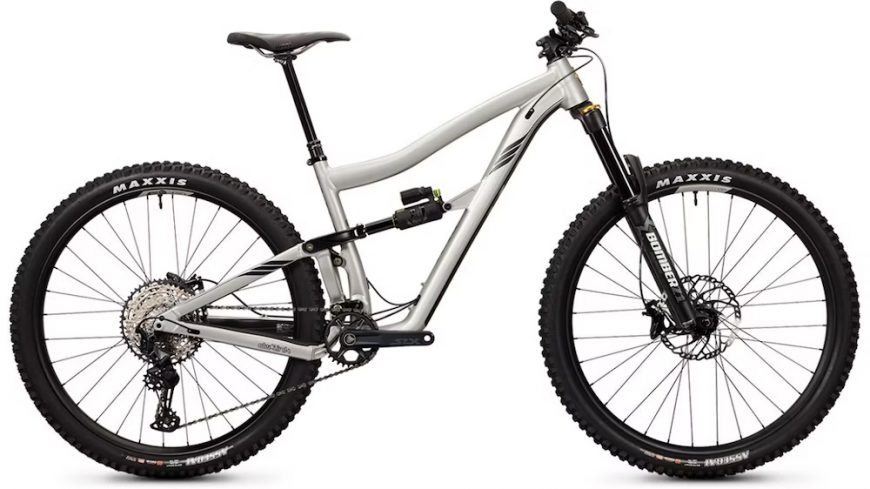 The Ibis Ripmo packs a very fresh design, thanks to the engineers of course! The V2 blew the whole team away as it surpassed all of our expectations. We were not expecting great bikes such as the Ibis Ripmo to have launched this year due to the horrors of the pandemic but here we are. I would go as far as saying that this is the far the best trail mountain bike that we have ever tried out!

This time, the geometry has been tweaked out to be longer than before and slacker, this allows for even better performance. I mean the Ibis was an accomplished trail-killer machine before now it is even more improved, now at descents and ascents, you are able to maintain amazing levels of speed with the amazing mountain bike wheels.

Let's talk about construction a bit shall we, the bike still has a shorter chainstay but that isn't the bad news. You will always feel in control and relaxed with the robust and wide handlebars. How well does the bike climb though? Well, it is still intact with the amazing climbing prowess, the steep tube angle, power transfer, and pedals make the rider feel always in control. You may want to give it the nickname of "Mountain Killer" after seeing it in action.

If you are thinking of going all aggressive with Mountain Bikes then the Ibis Ripmo V2 is your best bet, it artistically combines both uphill and downhill performance, after this bike, there won't be a need for another. This bike makes you feel always in control without sacrificing performance, not even for a bit.

Editor's Choice: Mountain Bikes have to be speedy sometimes, they have to be the masters of everything and the Ibis Ripmo V2 is going to give you that without sacrificing anything. It is an excellent climber and can do just about anything, even the geometry has been revamped for enhanced performance. Do you want an amazing aggressive mountain bike? Then you should definitely go for the Ibis Ripmo V2!
---
What To Consider Before Choosing A Bike?
Road Bikes or Mountain Bikes? Before you actually decide what kind of bike you want, there are other important aspects that you need to consider and all of them have to do something with YOU. So let us get started!
Why Do You Want To Take Up Cycling?
The first question that you have to ask yourself is why do you want to take up cycling? Is it passion, for health purposes, or do you just want to explore? People take up biking for many reasons.
Passion
Passion allows you to be more than just a casual, you can have a good start and then go from there. Chances are if you follow your passion with enthusiasm, you can become a professional and have multiple bikes for multiple occasions/purposes. So that is scenario number one!
Health
The second scenario is for health purposes. People love being physically fit or have goals according to that. Some go to the gym to pursue those goals while some do outdoor exercises/healthy practices.

Cycling is one of the most effective ways to get healthy (Scientifically Proven!), you don't just work on yourself but also get to experience mother nature while doing that. Plus, taking up biking means that you would never have to experience being stuck in traffic again, Yay!
Exploring Nature
Time for scenario number three. People love exploring, exploration leads to adventures and thus amazing memories. You can go exploring gorgeous vistas, trails, and hill stations, well the possibilities are endless over here.

If you crave that then that is yet another very good option to start cycling. You can have these adventures solo or with your family and friends, it is never a bad idea to make up your mind for healthy and befitting adventures.
What Are Your Budget Constraints?
Your choice of bike is going to depend on the kind of budget you have, and how much you are willing to pay. Let's establish this from the start, bikes are not cheap, they range from $200 to north of $15000, those ultra-pricey bikes have the best components, their design is spectacular, their performance is unmatched, and are pure eye candy.
Budget Bikes
This does not mean that you cannot get good budget bikes, thanks to technological advancement, it has become relatively easier for companies to manufacture budget bikes that are impressive. This wasn't possible before, there were plenty of constraints, although now you can easily enjoy a great budget bike within your financial comfort.
What Do You Prefer?- Speed, Comfort, Or Efficiency
This is the most important aspect that you have to focus on. It is the establishment for the other aspects, what do you actually expect from bicycling? There could be three possible outcomes from your experience with bikes, here is how it goes.
Performance
You could have the best speed, performance, or whatever you expect from your bike. This is primarily the concern of professionals and bike enthusiasts, you need a high-end bike that will cater to your professional needs. Participating in races, and other kinds of challenges, you would need the best from your iron steed!
Comfort
It could be that you want comfort from your bike, or you want to enjoy daily commuting. You could even want to go to work on your bike while taking in that fresh air. Enjoying beaches with your bike sounds fun right? You can take beach cruisers and have unique adventures, the possibilities are endless over here.
Effectiveness
Sometimes you want a bike for someone else or for a specific reason, it could be a gift to someone. If you are getting a bike for your kids then you would want it to be effective as possible. It has to be safe and fun at the same time, so that is something that you have to focus on.

So to summarize everything, before buying a bike, you need to figure out these aspects:
Why Do You Want To Start Cycling- Adventures, Health Purposes, or Passion?
How Much Are You Willing To Pay For The Bikes? Your Budget Constraint!
What Do You Expect From Your Bike- Performance, Comfort, or Efficiency
FAQs
Which Is Better Road Bike Or Mountain Bike?
While the answer depends on your biking needs, mountain bikes need more pedal power while you are riding the pavement, and a road bike is not good on the highway. Road bikes are also uncomfortable for longer rides.
Can A Mountain Bike Be Used As A Road Bike?
Yes, to some extent you can use a mountain bike as a road bike. Their primary function is to ride on rough tracks but that does not mean that you cannot ride them on roads for daily commuting.
Recap
Road Bikes and Mountain Bikes both have their own set of benefits and drawbacks, one is not superior over the other. It is just a matter of preference and taste, would you like to go for speed or adventures?

It is a question that you must ask yourself! If it is a matter of health then both types of bikes offer the same amount of benefits, both can be enjoyed with both friends and family!
Also Read: