VoroMotors is one of the best personal electric scooter companies to date, although they had humble beginnings as a retailer, they have evolved since then. Singapore blacklisted personal electric vehicles and that forced VoroMotors to search capable markets, which landed them in North America and a handful of European Countries.
The company is known for its amazing electric scooters, and just as you know it, we covered a variety of their products. Although the Emove Road Runner is a really good electric scooter, with the Emove Road Runner Pro, VoroMotors has taken the game to the next level.
Just look at the marvel which is the Emove Road Runner Pro, if you look at it from afar, it looks like an electric bike. That isn't all, you need to take a close and personal look at this scooter to realize the full potential of this beast, it is unlike anything that you have tried out before.
A Thoroughly Impressive Construction
The RoadRunner Pro might look like a tiny electric scooter but it is hefty, weighing 115 lbs. (52 kg), it offers a maximum weight limit of 331 lbs (150 kg). VoroMotors impressed us with the RoadRunner Scooter but it lacked in some key areas, once they listened to the feedback, they improved all the shortcomings with the Pro version. I have to say that this is a mighty fine achievement. The Pro Scooter has all of it: A Powerful Motor, a Bigger Battery, Better Tires, and an Impressive Top Speed.
Motor and Battery: Makings Of A Compact Rocket
This little beast comes packed with dual 2000 W motors housed in each of the wheels, it is a phenomenal upgrade over the original RoadRunner scooter. The previous version had a 350-W hub motor at the front and 500W at the rear, although it still performed adequately.
This time, the RoadRunner Pro can easily reach a top speed of 50 mph (80 kph), depending on how you use the scooter. Apart from this, you can also use the scooter in light rain and it can even tackle slopes of up to 30 degrees.
Let's move to the batteries now, it features a gigantic 60 V, 30 Ah LG battery, which you can remove easily. On a full charge, this scooter offers a range of 50 miles. Still, if that isn't beefy enough for you, you can double the range by installing an extra battery, although beware, doing so can increase the scooter's weight by an extra 21 lbs (9.5 kg).
When the battery is fully drained, you have to wait a while, it takes about 10.4 hours to fully charge.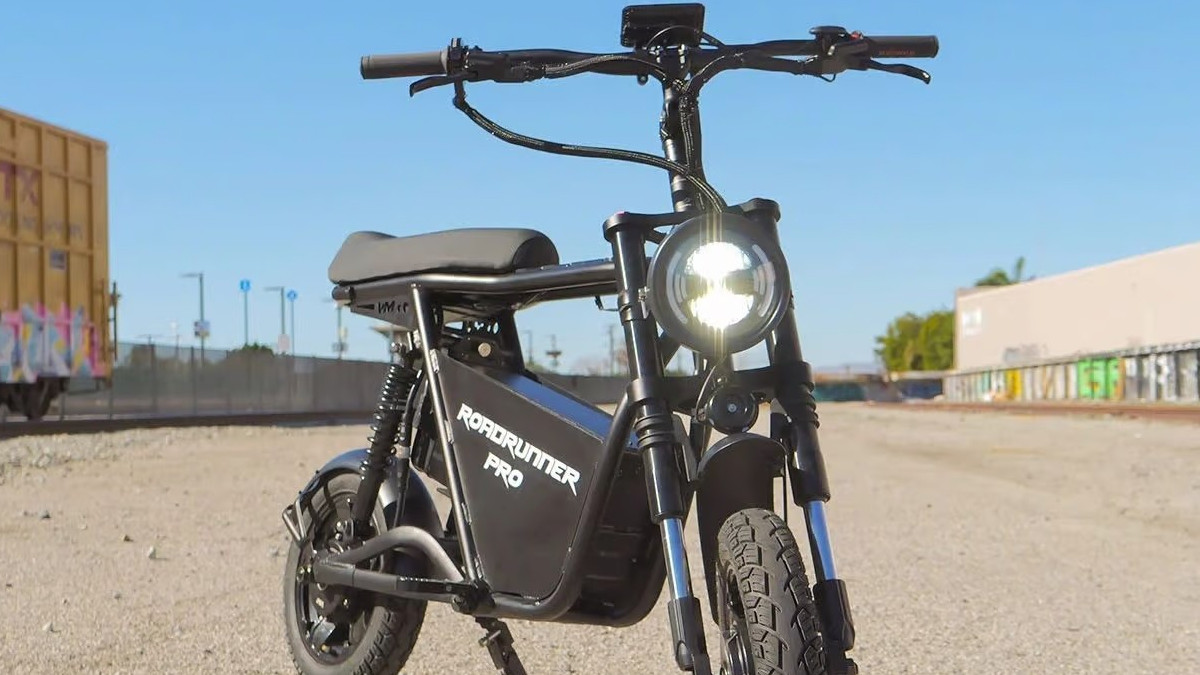 Other Useful Improvements
We had some problems with the old RoadRunner scooter, one of those issues was the seat. With the Pro Scooter, you will get to enjoy a longer and thicker seat. Voro Motors has said the following about their new seat:
To keep your bum happy, mile after mile.
Apart from being just comfortable, the new seat is wrapped in a water-resistant and heat-resistant material that ensures enhanced durability. The RoadRunner Pro also comes with a full suspension, the rider won't be bothered by any kind of vibrations or other problems. With the hydraulic disc brakes, halting the scooter won't be an issue.
Voro Motors also claim that customers will be riding on "the world's first split rim with a tubeless tire." What does this mean though?

The RoadRunner Pro has new wheels that are wrapped with 14-inch tubeless tires that can support high-speed street riding. You can even use this scooter for racing if you're passionate about it. With the tubeless tires, you won't have to worry about replacing the inner tubes, which takes a huge burden off your back. Still, this doesn't mean in any way that you will never get a flat tire!
We also love the new TFT LCD that the RoadRunner Pro comes with, it is really vibrant. The 3.5-inch screen comes with buttons for navigation and showcases the speedometer, battery level, motor temperature, and more. Riders are also free to choose between different riding modes whenever they wished.
My favorite features also include the bright Moto-style headlight, turn signals, taillight, and front fenders. Customers are also free to choose between extras like the full-face helmet, foldable handlebars, and side-view mirrors.
Pricing and Availability
You can pre-order the RoadRunner Pro Scooter for $2,895 right now. This is an amazing price tag for an electric scooter that offers so much. Deliveries are planned for August 2024, you can get more information on the scooter here.
Also Read:
Featured Image Via Voro Motors