Kids grow up so fast, don't they? One moment you are changing their diapers and in the next moment they graduate! Life goes on so fast, but we have to make every moment count, and one of the best moments in life is introducing our children to the world of bikes.
Our children learn and adapt to the environment so quickly, and by the time they are almost 5 or 6 years old, their sense of interest is just so much. This age is perfect for them to start riding bikes, the motor functions are enhancing at a stable rate and they can control their bodies easily.
If you have made sure that your kids are cycling from a young age then by the time they get almost 6 years old they can try out some of the really good bikes with gears. Cycling and fun are directly related when it comes to kids, you can't have a bike and not have fun with it, although finding the right bike for the kids can be a bit of a puzzle.
The market is filled with mediocre and crappy bicycles that will break down in less than a week. That is why we have done the necessary research for you! In this guide we will be discussing some of the best 20-inch bikes for girls, rest assured, these bikes are top-of-the-line!
All of these bikes have been tested by our very own professional team, they are perfectly suited for the long rides that you want to take along with your kids. May it be going to school or the everyday commute, these bikes are going to perform exceptionally well!
Girl's Bike Size Chart
| | | |
| --- | --- | --- |
| Rider's Age | Rider's Height | Bike Size |
| 1-4 Years | 28-38 Inches | 12 Inches |
| 3-4 Years | 36-40 Inches | 14 Inches |
| 3-7 Years | 40-48 Inches | 16 Inches |
| 7-9 Years | 48-52 Inches | 18 Inches |
| 9-13 Years | 52-60 Inches | 20 Inches |
| 13-15 Years | 60-66 Inches | 24 Inches |
How To Measure: Checking measurements for a kid's bike is fairly easier than others. Check out our detailed guide on Kid's Bike Size!
Best Girl's 20-Inch Bikes: Elevating Her Cycling Experience (2023 Reviewed)
All of these bikes have been chosen through strict criteria that ensure the best 20-inch bikes for girls. The bikes are from top brands like Dynacraft, Huffy, Guardian, and many more. The pricing is also very different here, we have bikes ranging from $100-300 and more. We tried out many bikes and spent countless hours testing them in every field, and are now pleased to present these amazing options. These bikes are durable, have amazing performance, are responsive, and of course stylish!
We have also made sure that these bikes have top-notch features available so you wouldn't have to look anywhere else for the best bikes. Let's get started!
Note: All the prices mentioned are subject to change.
1. Huffy Go Girl/Ignyte – Editor's Choice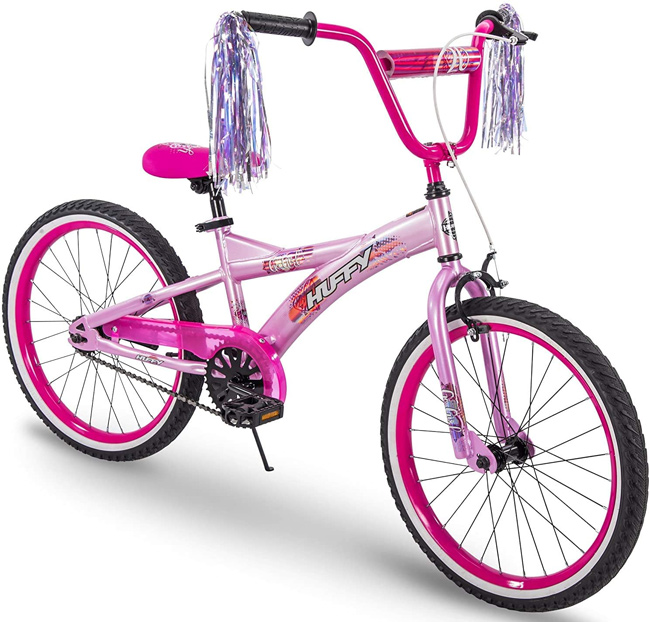 Price: MSRP $153
Every girl needs a bicycle that performs well and also loos very cool while doing that. The Huffy Go Girl bike is the bike that these young girls have been looking for, this bike checklists all of the above criteria and the best part is that it isn't even expensive. You should definitely check out this bike as it will surprise you!
The Huffy/Ignyte is constructed with a durable steel frame that you are going to love, it also features a single-speed drivetrain. You also get great stopping power because of the front and rear coaster/caliper hand brakes. There's also a quick-release lever under the seat for adjustability, plus there's also a kickstand, chainguard, and handlebar pad. All of this is just great, trust me I tested the bike many times.
With the vibrant color schemes and lifetime warranty, this is one of THE BEST girl's bikes that you can find in the market. Do check it out!
Advantages:
Affordable Price Tag
Strong Coaster Brakes
Great Customization Options
Easy To Assemble
Disadvantages:
Stock Issues
The Coaster Brake Could Be Better
Editor's Choice: The Huffy Go Girl made it to the top of the list because of the value and performance. It oozes premium quality but you can easily get it without breaking the bank. Girls are going to love the different color schemes paired up with the lifetime warranty!
---
2. Dynacraft Magna Front Shock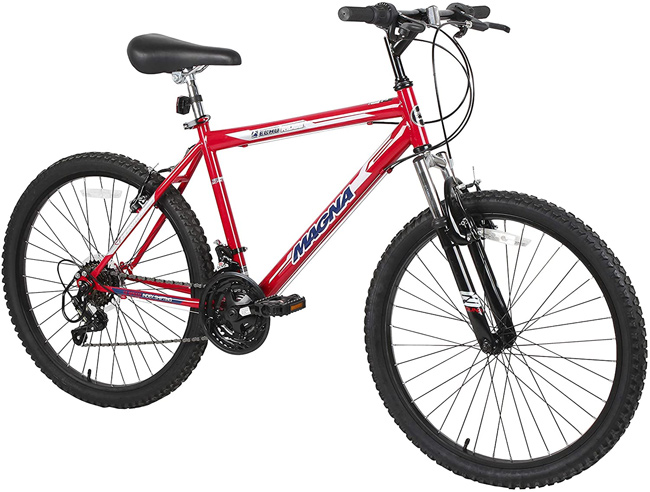 Price: MSRP $320
Life is all about necessities and with bikes you need to make sure that get all the necessities. Now, the Dynacraft Magna Front Shock may not offer anything exemplary but it gets all the necessary items right and packed with an affordable price tag.
This is basically a BMX bike constructed with a strong durable steel frame, coaster brakes, and a single-speed drivetrain, all of this makes for a great package.
The Dynacraft Magna is a very durable bike for girls but some might not like the boyish design. Other than that the customization options and performance give this bike a boost in the market. Plus, the bike is also very easy to assemble even if you don't have the necessary experience.
Advantages:
Boy-Proof Durable Steel Frame
Gives a "Masculine Look"
Great Customization Options
Impressive Single-Speed Performance
Disadvantages:
Not A Lot Of Color Options Available
Why I Like It: This bike can handle any kind of abuse you throw at it and it will still give the same amazing performance. There are also tons of customization options over here that you can avail of, making this a great user-friendly bike.
---
3. Guardian 20-Inch Ethos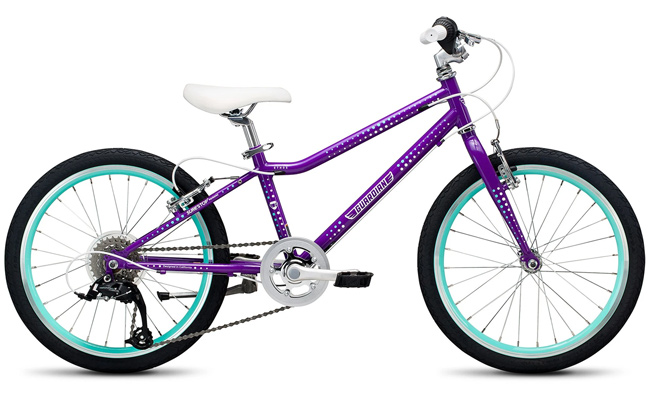 Price: MSRP $309
Young kids especially girls need extra protection when riding bikes and due to the amazing innovation, the Guardian 20-Inch Ethos is that amazing bike that you should definitely get for your kids. Although this is a very lightweight bike, it draws inspiration from mountain bikes, hence the design.
The bike is constructed with a single-speed drivetrain, kickstand, and a quick-release lever, all of these features would make the kids feel at ease.
What actually makes the Guardian bike so special? The answer is the SureStop Braking System. This innovative braking system combines the front and great caliper brakes into one unit, this makes sure that the stopping power is absolute, not a lot of bikes use this system which is why it makes the Guardian so special.
Even if you don't have any idea of assembling bikes, the Guardian should be very easy to assemble. Just follow the instruction manual and everything else should be peachy. The customer service that you get from the company is also pretty amazing!
Advantages:
SureStop Braking System
Vibrant Color Schemes
Mountain Bike Inspired Durable Frame
Disadvantages:
Availability
Caliper Brakes Might Be Difficult To Use
Why I Like It: The Guardian Ethos is an amazing bike that you can get for your kids. There are plenty of colors to choose from so it doesn't matter if you are getting it for girls or boys. I was impressed by the SureStop braking system, that is why I absolutely had to try this bike!
---
4. Royalbaby 20-Inch Freestyle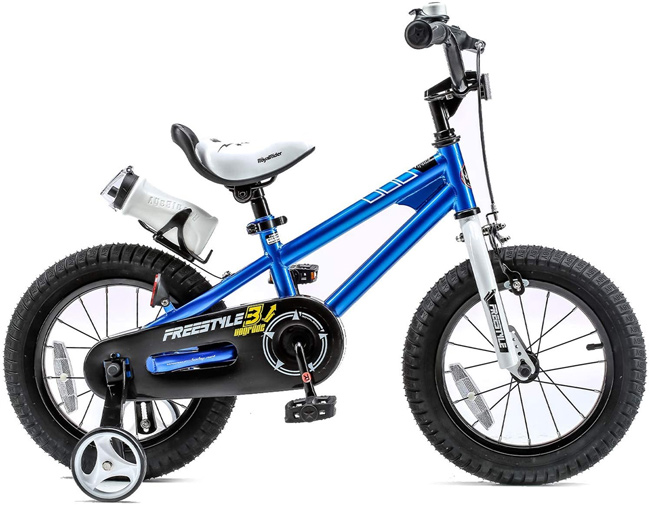 Price: MSRP $129.99
The Royalbaby Freestyle is going to put a smile on any kid's face and that is a promise! This is another BMX-type bike that the kids are going to love, it also comes in different color schemes so that it's attractive to both boys and girls.
This bike is constructed with an amazing steel frame that will make sure that the ride is safe and light. The single-speed drivetrain on the other hand makes it easier to ride even on the hilly terrains, this bike is seriously very impressive.
Like the other bikes in the market, it uses coaster brakes for immediate stopping power. You can also adjust the seat of the bike thanks to the lever installed underneath.
The kickstand, front and rear fenders, and the chainguard all come with the bike, you won't have to worry about anything else. You would love this bike, trust me!
Advantages:
Unique Color Schemes
BMX-Style Design
Cool Customization Options
Disadvantages:
Not A Good Fit For Everyone
Small and Awkward Saddle
Difficult To Start Pedaling
Training Wheels Are Difficult To Use
Why I Like It: The main reason I love the Royalbaby Freestyle is because of the vibrant color schemes, I mean they are just so appealing. The kids are going to have a comfy and even customized riding experience if they want. I was literally amazed by the BMX-Style construction of the bike. Do try it out!
---
5. Schwinn 20-Inch Koen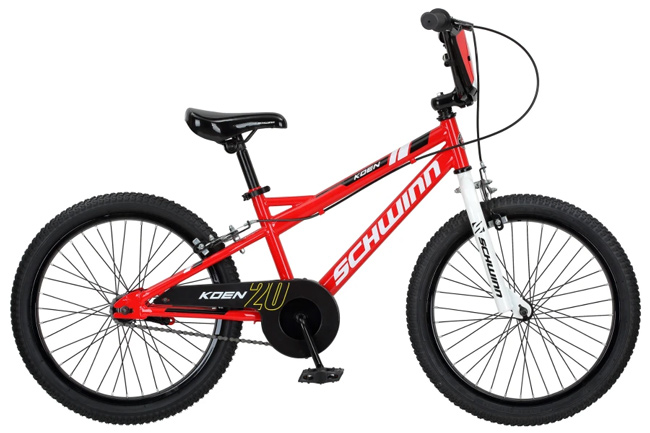 Price: MSRP $169.99
Schwinn means quality and quality means Schwinn, if you know anything about bikes then the name Schwinn is enough. Their Koen bike is specially made to let our kids feel like champs whenever they ride the bike. Constructed with a lightweight steel frame, this bike can withstand any kind of abuse thrown at it.
It has a double-brake system as you might have guessed it as it employs both caliper and coaster brakes.
Even though Schwinn is selling it as a boys-centric bike it is perfect for girls too, actually, it is one of the best girl's bikes in the market. You can choose from different color schemes, that are pleasing to both boys and girls.
This bike also employs Schwinn's exclusive SmartStart engineering system so that the kids can have a smooth and comfortable ride.
Advantages:
Schwinn Quality Construction
SmartStart Engineering
Great Customization Options
Disadvantages:
Customer Service Is Not Very Responsive
Pedals Are Difficult To Permanently Secure
Tools Required To Assemble The Koen
Handbrakes Are Difficult To Adjust and Engage
Why I Like It: Schwinn says it all, I have been a long-time fan of Schwinn so I knew from the get-go that this was going to be an amazing bike. It even employs the special SmartStart engineering system, the kids are going to love it to bits!
---
6. Woom 4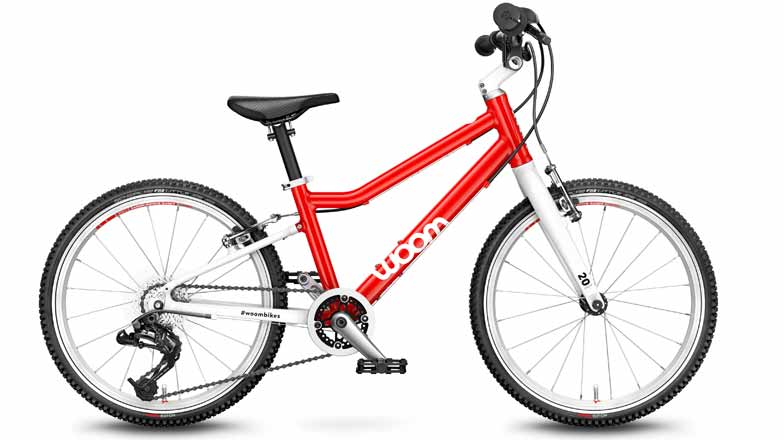 Price: MSRP $499
Like Schwinn, Woom is another great bike manufacturer that you can completely rely on! The Woom 4 is an amazing lightweight bike that the kids and the parents are going to love. The components and features are there on the bike so that our little babies are going to love the Woom 4.
This bike is extremely fun, and easy to handle, even if your kids have had little practice they will have no problem with the Woom 4.
The Woom 4 is the easiest to handle on the list but there are other great bikes too, this one just does things a bit differently. You can easily adjust the seats if the need is there and the stopping power from the dual brakes is just exceptional.
Personally, I think that the customization options on this bike are amazing, almost endless one could say. No matter what you want to add to the bike like baskets, or racks, anything is possible here!
Advantages:
Great Customization Options
Amazing Durability
Powerful Dual Handbrakes
Disadvantages:
Microshift Grip Shifter Is Difficult To Use
Why I Like It: The Woom 4 is aesthetically pleasing to both kids and parents, and with the lightweight structure the performance is also exemplary. I was amazed by the customization options with this bike, you can make a girl's bike into a boy's bike by just the customization alone!
---
7. Prevelo Alpha 3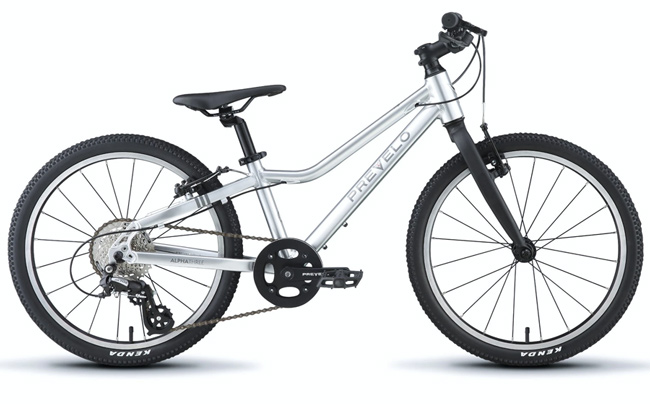 Price: MSRP $539
Prevelo is one of the few companies in the industry that perfectly combine visuals with performance, their Alpha 3 bike is a perfect example of that statement. This is a dedicated kid's bike, it has the necessary geometry, features, and components.
Constructed with a lightweight and durable frame, this is a bike that ensures comfort and fun for the kids. I would say that it directly competes with the Woom 4 in terms of performance.
Quality matters and quality sells big time, Prevelo knows that way too well that is why it keeps on pumping out great bikes, may it be for kids or adults. If you are looking for a great kid's bike then do consider the Prevelo Alpha 3, it will surprise you in many ways!
Advantages:
Shimano Drivetrain
Tektro V-Brakes
Offers Trade-In Program
Disadvantages:
Trigger Shifters Are Difficult To Learn
Why I Like It: The Prevelo Alpha 3 is one of my favorites because of the brand itself, Prevelo is selling amazing quality and value. It is rare to find the quality of bikes nowadays, even with these components the bike performs way too well!
---
8. Frog 55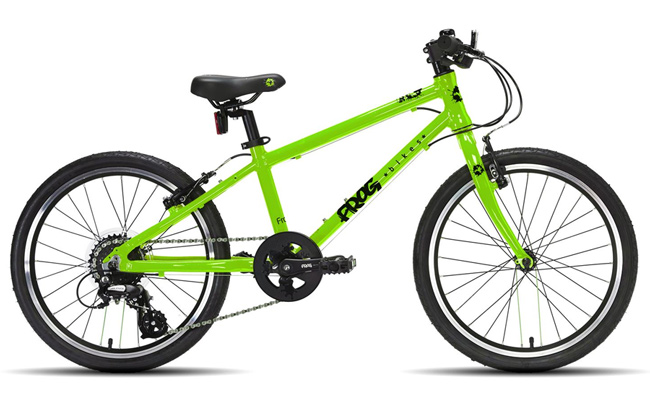 Price: MSRP $520
When kid's bikes come to mind, Frog is a company to remember because they make some of the most amazing bikes. The Frog 55 is their 20" inch bike that excels in almost everything, if you are looking for a really good kid's bike then look no further than this one!
One of the best things about this bike is that it comes in a variety of amazing color schemes, so no matter what your kid's favorite color is, the bike will be available in that.
This bike is not just about the looks, it is all about performance and components as well. Shimano Drivetrain and the high-quality brakes prove that this is one of the best quality bikes in the market.
The Frog 55 is also suited for almost every kind of weather thanks to the amazing fenders that are pre-installed.
Advantages:
Unique Color Schemes
Child-appropriate Geometry
Amazing Durability
Amazing Hybrid Performance
Disadvantages:
Why I Like It: Imagine telling your kids that you got a frog for them, they would certainly get excited. If the frog turns out to be a bike then they will be even more excited, and this is a really good bike that you should definitely get for your kids. With the amazing components, it offers exceptional value!
---
9. Pello Rover
Price: MSRP $529
Think of your life as an adventure, at least that is what the kids think so let them be like that, life should be filled with fun and countless memories. Kids are going to have many fun adventures on the road with the Pello Rover, that much is guaranteed!
The Pello Rover is a dream come true for any adventurer kid because the bike gives you so much freedom that other bikes just fail to do.
Adventurous kids love exploring and sometimes too much of that can damage their bikes, but with the Crane Creek headset, the bike will be able to withstand any kind of abuse. You also get amazing handling thanks to the Kenda K-Rad Tires.
Advantages:
Kenda K-Rad Tires
Cane Creek Headset
Highly Durable
Disadvantages:
Why I Like It: I have a little adventurer at home and getting the Pello Rover for her was the best day of her life. Now she is having countless on the road. The bike keeps her excited and protected too and it has been a while since she got it. This is a bike that you won't regret getting for your kids!
---
10. Cleary Owl 20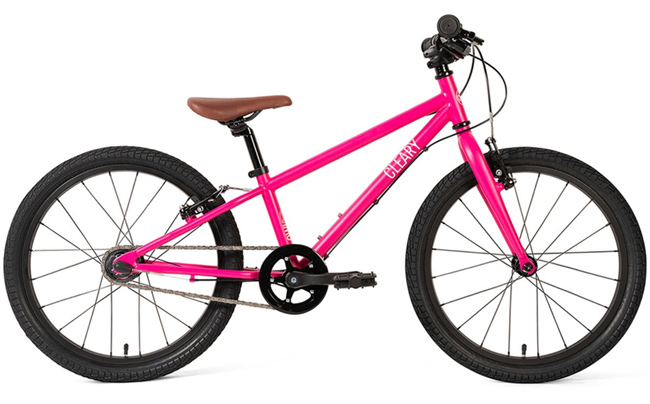 Price: MSRP $485
You should know that Cleary makes the most beautiful bikes in the market and that is a fact! The Cleary Owl is their amazing 20" bike that you should get for your kids if you want a good combination of aesthetics and performance.
Our little adventures will be going to all sorts of places which is why they need a really strong bike.
If you don't like the 3-speed version you can always opt for the single drivetrain version. This is a really popular bike that you shouldn't pass on, the strong steel frame makes sure that the bike can handle a lot of abuse.
Advantages:
3-Speed Sturmey Archer Hub
Robust Steel Frame
Different Color Schemes
Disadvantages:
Trigger Shifters Are Hard To Engage
Why I Like It: Beauty and Cleary Bikes go hand in hand, that is what we need to know firsthand. I got the Owl for my little girl and she can't stop being happy since then. It is a strong durable bike that will make sure that your child has the utmost fun!
---
11. Guardian Original 20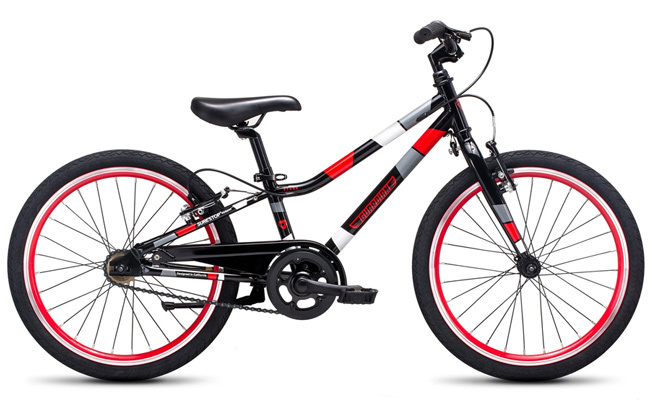 Price: MSRP $309
Congratulations! Your child has made it to that age where they can easily enjoy the 20" bikes and that Guardian Original is one of the amazing bikes to get. This is a bike that will push the kid's skills to their limits while simultaneously enhancing them.
It does not matter if the kids want to show off their skills by doing wheelies or even going on off-road trails, the Guardian Original will support all.
You may be thinking this is just a simple bike but with the amazing components like the Shimano Grip Shifters, the performance just enhances. It boasts a kid-friendly design that is both aesthetically pleasing and lightweight.
Like I said before, if your kids want to become professionals in the future then this is the perfect bike to start with. Even though there are just 2 color options to choose from, the customization options are plenty!
Advantages:
Lightweight Aluminum Frame
Kid-Friendly Design
Shimano Grip Shifters
SureStop Brakes Are Amazing
Disadvantages:
SureStop Brakes Not Fit For All-Terrain Riding
Why I Like It: Guardian Bikes are amazing, they mix the visuals with the performance perfectly! This bike challenges kids while also nurturing their skills. I personally think that a little challenge can be a great source of motivation.
---
12. Co-op Cycles Rev 20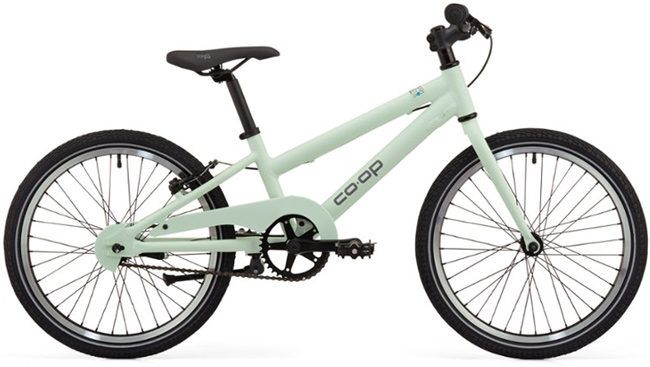 Price: MSRP $249
Ah! The Rev From Co-op Cycles is the final product that we are going to discuss. It may be the last one but certainly not the least. This is an amazing kid's bike that prioritizes value and performance, and there are not a lot of bikes like this in the market.
The bike is constructed with a lightweight aluminum frame, this way the kids are always in control and the handling is awesome too!
Co-op Cycles have always been at the forefront of great customer service and products. The Rev 20 makes sure that the kids have absolute stopping power thanks to the coaster brakes. If your kids want to have a ride at the park then the single-speed drivetrain is going to be more than enough!
Advantages:
Great Value
Shimano Drivetrain
Highly Durable
Kickstand Included
Comes In Gender-Neutral Tones
Disadvantages:
The Bike Is Small In Size
Handlebars Are Difficult To Adjust
Aggressive Geometry Can Cause Bikes To Crash
Seat Might Be Uncomfortable For Some Users
Why I Like It: The Rev 20 is an amazing bike that the kids should definitely try! Although it is just a budget bike, the construction and components give a very premium feel to it. The Shimano Drivetrain is extra handy on parks and off-road trails.
---
Best Girls Mountain Bikes
If you are planning to have adventures on the trail with your kids then you would need a perfect mountain bike for them. It is the perfect time to transition from a 20-inch bike to 24-inch one and that is why we have compiled these amazing bikes for you!
These amazing mountain bikes for your kids will offer the ultimate fun while also enhancing their skills so do take a look!
13. Norco Fluid FS 1 24- Editor's Choice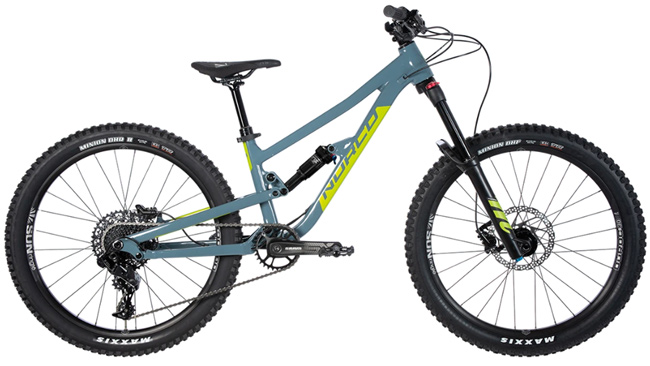 Price: MSRP $2,099 (Was 2,799)
The Norco Fluid FS 1 24 made it to the list because of its amazing construction and performance. This is an updated 2020 model and even if you get it this year, it'll be amazing. The Fluid is ready to tackle anything you throw at it, I call this bike my little "Shredder".
Norco makes amazing bikes, the market is their witness and with the Fluid FS, you would be getting amazing value even if it is expensive. Your kid would want to try out everything with the new mountain bike and that can be easily down without any kind of problems.
Advantages:
Maxxis Minion DHR/DHF tires
100mm Dropper Post
Fox and X- Fusion Suspension
SRAM NX Shifters
Excellent Frame Shape
Durability
Disadvantages:
Trail Performance Isn't So Great
Why I Like It: The Norco Fluid FS is an amazing choice for young mountain bikers. It offers top-performance and no setbacks. With this bike, the kids would be totally ready for the next challenges!
---
14. Prevelo Alpha 4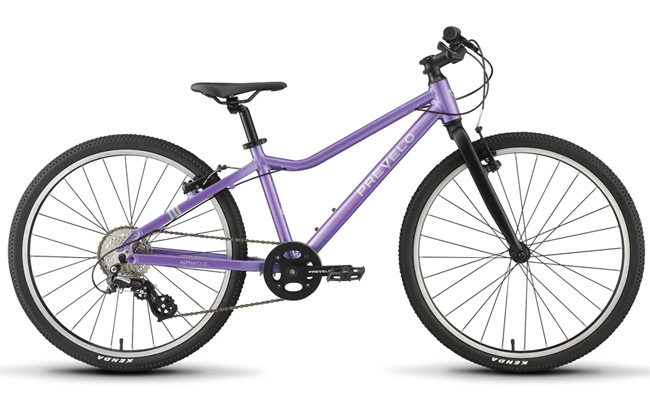 Price: MSRP $549
When it came to mountain bikes, we had to talk about the Prevelo Alpha 4. It is an amazing bike and there are many reasons to support that, not just one! I mean, even the youth-inspired geometry inspires confidence in the young riders.
Your child would always be in control with this bike thanks to the low-centered geometry and suspension. It is also very lightweight thanks to the 6061 aluminum frame. The frame is then combined with an alloy fork and Chromoly steerer, this keeps the bike very light and easy to handle.
With the high-class components from Shimano, this is a premium bike I would say even though the price is very much affordable. The Tektro front and rear v-brakes offer absolute stopping power that is much needed in mountain bikes.
You won't have to worry about assembling the bike because it comes 95% pre-assembled. Get this bike if you want to make your kids very happy and excited!
Advantages:
Tektro V-Brakes
Shimano ALTUS 8-speed Drivetrain
Shimano Acera RAPIDFIRE Plus Shifters
Lightweight and Nimble Design
Low Center Of Gravity Allows For Better Balance
All-Terrain Tires Perform Great
Railed Saddle Allows Amazing Adjustability
Disadvantages:
Minimum Seat Height Is Taller Than Previous Models
Why I Like It: The Prevelo Alpha 4 cuts through trails like a knife through butter and you definitely need this type of bike for your little kids. Even from a young age, it will inspire great confidence in your kids that will allow them to enhance their skills. With the top components, the kids will enjoy a great performance!
---
The Difference Between Girl's and Boy's Bikes
You might have seen some bikes in the list above that were actually boys-centric, but does that mean that girls can't use them? No! Kids' bikes are meant to be enjoyed by both boys AND girls as there is no difference between them.
The first thing that you need to know is that, unlike adult bikes, there is no difference between kids' bikes. There are no special components or features, they all have one main structure. We also know that sometimes girls want a more "feminine" focused bike and that is totally doable.
With the right accessories and color schemes, you can easily make your own perfect bike, may it be for girls or boys. Just choose the right design and colors when you are out to purchase a bike, customization is key here.
How To Choose The Perfect Kid's Bike- Buyer's Guide
Getting the right bike for your kids can be a lot of trouble and misery, especially if you are doing it for the first time. Fortunately, we have done all the research for you and there is no need to be worried about it! Using this guide, you will be able to find the perfect bike for your kids.
Set Up Your Budget Properly
Like many things in life, the more you spend on something the better you will get. This scenario also applies to bikes, especially kid's bikes because they are delicate. Spending the maximum amount you can, will land you on the best available bike, remember that there is no need to be feisty when it comes to our kids and their protection.
How much is the least amount that I have to pay though? Well, the least amount that you should expect to pay is between $200-$300. If you spend any less than that then the kids won't be able to enjoy the bikes and they will break down sooner than expected!
There are some great budget bikes that you can get that also take advantage of premium components, the end choice is going to be made by you though.
Suitable Age Means Suitable Bike
Getting the right bike for your kids depends on their age and that is the key to a perfect purchase. We have showcased the bike size chart for kids at the start of the guide. You just need to follow those instructions!
If you are looking for a 20-inch bike then the right age for that is around 6-9 years, after that you should look for a 24-inch bike.
Another helpful tip is checking your kid's inseam length before looking for a bike, once the perfect height has been determined, you can move on to shopping!
Stopping Power Is Necessary
Kids need the stopping power and the 20-inch bikes use v-brakes in their construction. V-brakes offer absolute stopping power and that is perfect for kids, as coaster brakes could be dangerous. That doesn't mean that some 20-inch bikes don't use coaster brakes.
I would suggest that you keep yourself away from coaster bikes as possible! V-brakes are going to give the best control to the kids.
Some high-end bikes might not even have v-brakes, as they will be replaced by disc brakes that are better! Disc brakes are perfect for any kind of weather.
Bike's Weight Matters
A bike's weight might not matter that much to a 7-year old but it is still a very important aspect to consider. The main goal over here is getting a bike that actually weighs LESS than your kid. We don't want the kids to pull their own weight and the bikes.
What will a lightweight bike do? A Lightweight bike is going to be easier to handle and control and that should be a must for kids.
Wheels and Tires
The wheels and tires are very necessary when it comes to a kid's bike. You also need to consider here that what kind of riding will they be doing mostly. You need to look for tread tires if they will be using the bike on dirt, mud, etc. Fast-rolling tires should be used if the kids are just going to use the bike on pavements.
Gears and Drivetrain Matter
If the kids are confident enough when they reach the compatible age then getting a bike with gears is going to be the next big step. Enough practice on pedal bikes would make them more than comfortable with gear-focused bikes. Go for bikes with internally geared hubs, there will be fewer gears to worry about.
At this age, a few gears would do the trick, there is no need to go above that.
Fork or No Fork
Kids will think that having a bike with a fork looks cool! Well, it does but that is not the point here. The kids will urge you to get a bike with a suspension fork but you shouldn't do that. Forks add to the overall weight of the bike and eventually, it will become too much to handle for the kids.
Read also:
FAQs
At What Age Can You Start Riding A 20-Inch Girl's Bicycle?
The recommended age for riding a 20-inch girl's bike falls between 5-8 years.
Can Boys Ride Bikes Made For Girls?
Absolutely, apart from the color schemes, there are not a lot of differences in girls' bikes. Boys can ride these bikes without any problems.
Is Cycling Safe For Young Girls?
Cycling is completely harmless for young girls, just make sure that they are under supervision when they ride. If the experience gets uncomfortable for them, stop them fro using the bikes immediately!
Recap
Bikes are going to be the best companions for your kids, with them they are going to have countless adventures so it is vital that you get them right. Girls' 20-inch bikes can easily be used by boys and vice versa, there is no difference at all between the two bike types. Whether you go for cheaper kids bikes, geared bike, single-speed bike, or balance bike, we want your kids to have the best time of their lives.
The top bikes on the list were and that is my own personal opinion and preference:
Best 20-inch Girl's Bike: Huffy Go Girl/Ignyte
Best Girl's Mountain Bike: Norco Fluid FS 1 24
In order to make the best purchase for the kids, you will have to follow the guidelines mentioned. After that, your own personal preferences matter. No choice can be wrong but make sure that the bike is high quality and durable enough for the kids. The most fun bike will depend only on the liking of your child.