Cycling is something that is both relaxing and competitive, it brings out the best in you while also enhancing your skills. The cycling headphones will not bring that much improvement to your riding experience if you look at them from one just one aspect but if you manage to find the perfect headphones with just the right features, then they can make everything exhilarating and more fun. With that being said, you must always find the best headphones with the right features, these will make your two-wheeled adventures even more fun.
Best Cycling Headphones- Tried And Tested (In 2023)
We want you to experience the best sound quality while you have your cycling adventures, which is why we compiled this exciting guide. After trying out more than 15 headphones for their sound quality and musical prowess we present these amazing headphones. We have done our best to include headphones of all types so that you get the most for what you will be paying, enjoy!
| Headphones | Type | Price/$ |
| --- | --- | --- |
| Haylou Purfree | Bone Conduction  | 130 |
| AfterShokz Aeropex | Open-Ear Bone Conduction | 130 |
| JAYBIRD VISTA 2 | Earbuds  | 149 |
| Klatre LS1 | Bone Conduction  | 119 |
| APPLE AIRPODS PRO | Earbuds | 249 |
| Aftershokz Titanium Mini | Bone Conduction  | 129 |
| ADIDAS FWD-02 | Earbuds | 170 |
| EKEN | Bone Conduction | 49 |
| BANG & OLUFSEN BEOPLAY E8 | Earbuds | 332 |
| Boltune True Wireless Earbuds  | Earbuds | 65 |
Important Notice: All the mentioned prices are subject to change.
1. Haylou Purfree
Type: Bone Conduction
Price: MSRP $109.32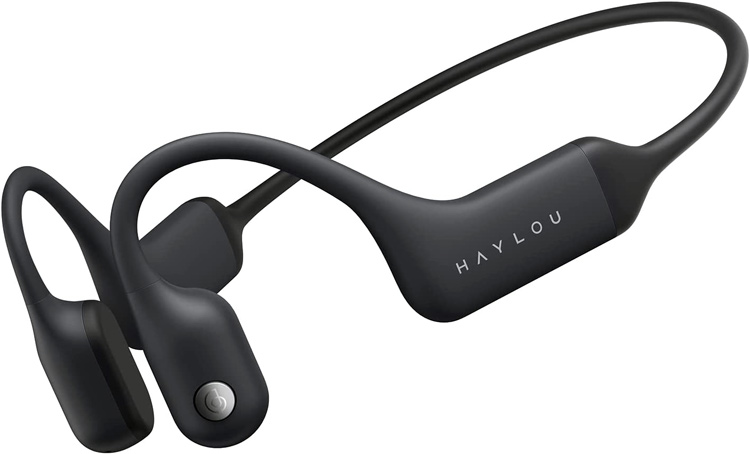 The Haylous have a titanium frame that keeps them in position on your head and weighs only 28g. Up to two hours of playback can be obtained with just 10 minutes of charging time. They allow for two BLE connections, for example, allowing you to receive incoming calls while playing music from your PC.
Due to the Haylou headphones' lack of ear canal placement, we found them to be more pleasant to wear than a set of Apple Airpods. They also don't interfere with glasses in any manner. Although we thought the sound quality was good and there was minimal sound bleed, we would have liked a storage cover to assist keep them safe when not in use. PurFree has cVc dual microphone call noise cancellation, which makes calls smooth and crystal clear. These active noise-canceling headphones can protect your hearing and keep you safe at the same time.
The in-ear option usually referred to as earbuds, offers the most portable and covert fit when it comes to headphones and is probably the most popular option. Excellent headphones for riders that prioritize portability, convenience of use, and inconspicuous listening.
Pros
Comfortable
Less Charge Time
No Sound Bleed
Ability To Run Several BLE Connections Concurrently
Cons
Editor's Choice: These headphones stand out on our list because of their feature to be connected to multiple devices at once and are highly durable and comfortable. You might be turned off by the short charging wire but there is still a lot to like about these headphones. They have a good sound quality and are cozy to wear.
---
2. AfterShokz Aeropex
Type: Open-Ear Bone Conduction
Price: MSRP $130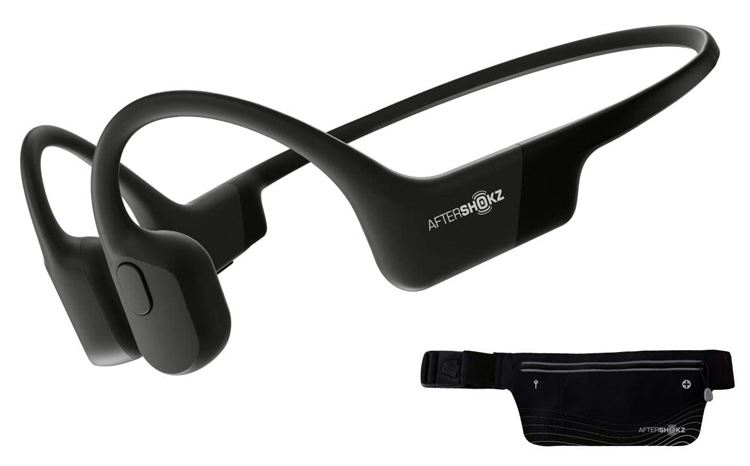 With technology that puts it one step ahead of the competition, Aftershokz is the market-leading manufacturer of bone-conduction headphones. The Aeropex and other wireless AfterShokz models are the ones that come the closest to being regarded as the top cycling headphones on the market.
The AfterShotz Aeropex cycling headphones are completely sweat and waterproof and made for arduous workouts and outdoor adventures in the worst weather.
Even though they shouldn't be used for swimming, several individuals do and have never experienced any issues. They can definitely handle a shower. If the charging port becomes too wet to be secure during charging, a moisture detection sensor warns you. In comparison to other bone conduction models, they have dynamic bass, more volume, and less vibration (a little tickling that is typical of bone conduction). They weigh less than an ounce (26g).
They can link to two devices simultaneously, which may not matter for cycling but gives them flexibility in the workplace. Although you will undoubtedly have to sacrifice sound quality, as with any bone-conduction headphones, the level of awareness is absolute. Although the Aeropex is the most expensive model in the Aftershokz line, they are unquestionably one of the greatest bone-conduction headphones available today.
Pros
Waterproof
Long Battery Life
Outstanding Sound Quality
Cons
Costly
Unadjustable Beep Sounds
Bottomline: When you take into account how they deliver the music to your ears, the sound quality is excellent. In my opinion, you wouldn't look toward the sports/cycling/running headphones spectrum if you wanted a pure high-end musical experience. So, if you're looking for a pair of sports headphones, be aware that in order to get the other advantages of sports headphones, you'll have to make a small compromise in terms of sound quality. Waterproofness, toughness, and safety in the case of the Aeropex.
---
3. JAYBIRD VISTA 2
Type: Earbuds
Price: MSRP $89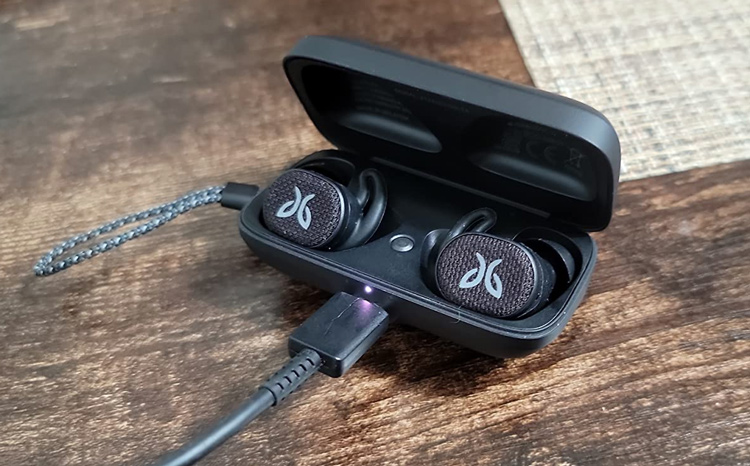 These headphones are great for biking because they have multiple features that work well together. For us, the best part is the ergonomic design, which Jaybird and its athletes like because it fits well and stays in place.
Both are important to us because we've tried other headphones and had to ride hard and jab ourselves in the ear to get them to stay in. The Apple Airpods are still trying to solve this problem (although the latest iterations are better). The waterproof and sweatproof parts are also very important for anyone who has ever ridden a bike indoors for more than 10 minutes. After spending a lot of money on them, it would be disappointing and very distracting to have to worry about water getting in while riding.
The most popular feature, however, is Jaybird's own SurroundSense, which can either actively cancel noise when you need to focus or actively boost ambient noise to make you more aware of your surroundings and safer. It's a feature that the Apple AirPods Pro also has, and we like it. This is especially important if you'll be using them a lot outside if it's legal to ride with headphones where you live, or even at home when you need to be immersed in sound or keep one ear open for a child.
The online platform lets you customize the sound quality of your headphones to your liking. With a Bluetooth wireless range of 10m/33ft, you can be a good distance away from your device, making it less likely that you will sweat or drop it and damage it.
The Jaybird platform also has a "Find my Buds" feature in case you lose one or both of your headphones while you're out, or if you're so tired from your session that you can't remember where you put them. It's another "must-have" feature for one of the most expensive headphones sets in our guide to the best headphones for cycling.
Pros
Noise Cancelling
Waterproof
Built-in Mic
Cons
Bottomline: These have a ton of potential uses due to their compatibility with both iOS and Android devices, which means you can use them to make and take calls, as well as connect to Discord for team strategies during online use.
---
4. Klatre LS1
Type: Bone Conduction
Price: MSRP $64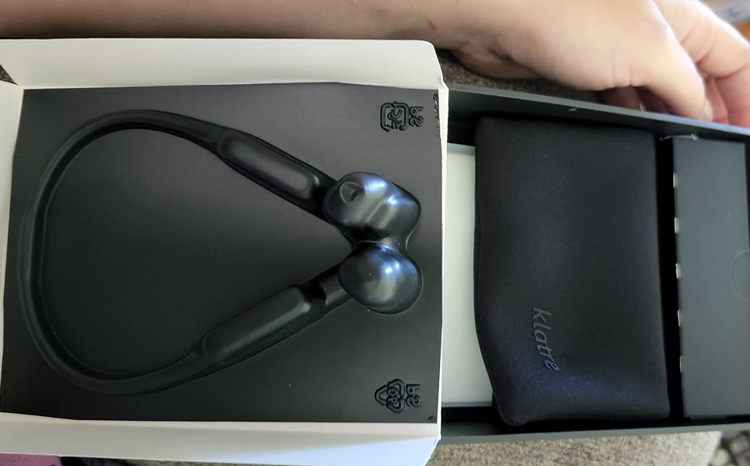 In the game of bone conduction, Klatre is the new player. With their LS1, they are bringing a great-value product to the market. With a weight of less than 31g and a sleek design, they are almost invisible when you wear them, even though they stay put.
What are their best qualities? The battery lasts for 8 hours and is fully charged in about an hour. The wireless range is surprisingly long. About the latter, their booklets say it only works up to 10 meters (33 feet), but I've had a perfect signal up to 20 meters, even with a wall in the way.
The sound quality is about the same as other bone-conduction headphones. If you're an audiophile who wants to hear all the details and dynamics of music, these won't be your go-to headphones at home. They are great headphones for biking, running, and other outdoor activities that require you to be aware of your surroundings. Even when the volume is turned all the way up, you can still hear what's going on around you.
If you listen to podcasts all the time, these headphones are a great buy, and you'll probably use them at home too. You can also use voice control by pressing and holding the large multifunction button to turn on the voice assistant. This is quick and convenient.
On the other hand, loud bass music can make your temple vibrate, which is a problem that all bone-conduction headphones have. To fix this, you can just use an equalizer (EQ) to turn down the bass frequencies.
Pros
Long Battery Life
Less Charging Time
Featherweight
Cons
Bottomline: This pair fits well and doesn't stick out too far from your head, which I like. I think that the better fit makes for a better connection and better sound. What I liked the most while trying this beauty was that I could cycle while listening to music or a podcast, but I could still hear what was going on around me. It was easy to connect the devices, and I could switch between them whenever I need to.
---
5. APPLE AIRPODS PRO
Type: Earbuds
Price: MSRP $249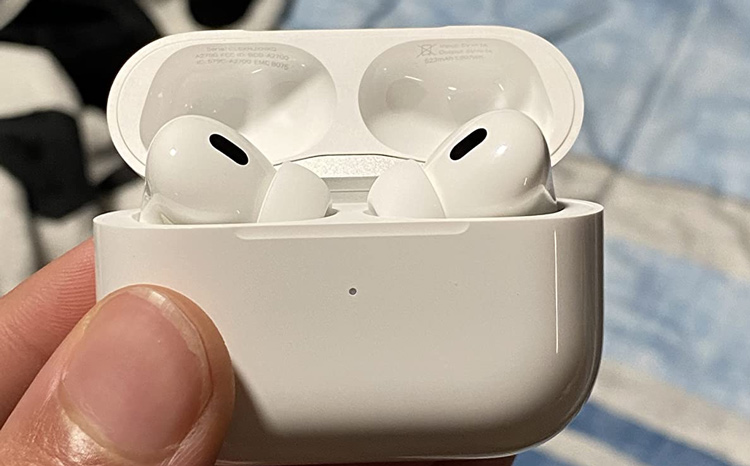 The white dots on the brand's logo are so closely associated with wireless in-ear headphones. The latest versions of the AirPods Pro are full of features and functions, but it's important to note that you need an Apple device that's compatible with them to use them to their fullest.
Like the Jaybird Vista 2, these are some of the best cycling headphones for riders who need to switch between total sound immersion and active ambient hearing quickly and easily. It's a great feature if you're on the road (where it's legal).
The batteries have a good play time of four to five hours, and just five minutes in the charging case gives you an hour of listening or talking time, which is pretty good. The charging case also has a cool feature called "smart charge," which learns how you listen and only charges your headphones to 100% when you need to use them. This keeps the battery life as long as possible. They are also very helpful because they are Magsafe and can be charged wirelessly.
The fact that you can switch out the silicone tips makes it easier to get the right fit and comfort, but these won't work for everyone and will need to be poked back in every once in a while when training hard.
Even if you sweat a lot while riding, the sweat and water resistance should protect you enough. But if it's pouring outside, I'd rather be safe than sorry, especially since it's expensive to buy a new pair.
If you're also looking for headphones that can do everything, these are a great choice. They can connect to your phone, recognize your voice, work with Siri, and adjust the EQ. You just need to be sure you want them because you have to pay for them, which may be fair.
Pros
Easy To Use
Siri Connection
Adaptive EQ
On Ear-Touch Controls
Extended Battery Life
Cons
Expensive
Only Completely Compatible With Apple Devices
Not foolproof Waterproof
Bottomline: The AirPods Pro fits snugly in your ear canal and blocks out outside noise so you can hear your music clearly. This keeps the sound quality without letting auditory masking get in the way. When you have both passive isolation and good noise cancellation, you are less likely to turn up the volume to drown out outside sounds. This could protect your ears from hearing loss induced by noise.
---
6. Aftershokz Titanium Mini
Type: Bone Conduction
Price: MSRP $89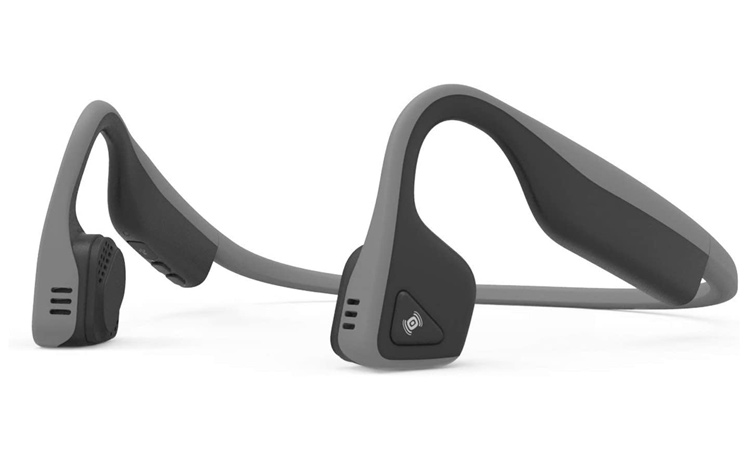 The Aftershotz Titanium Mini is the younger brother or sister of the Aftershotz Aeropex. Although they are more affordable, more compact, and more comfortable than their older sibling, they do not match their sibling's exceptional performance.
The wireless Bluetooth connection is a little bit problematic, and the IPX waterproof rating is simply an IPX55. These headphones are great for perspiration and light rain, but you shouldn't try to take a shower while wearing them.
Although the app's EQ preset can help, the sound performance is not quite as good as that of the Aeropex bone-conduction headphones. However, it is still quite good for bone-conduction headphones.
While the LeakSlayerTM technology helps to reduce the amount of sound that escapes from the titanium band's pores, it is both durable and flexible. Because of the two noise-canceling microphones, the call quality is much improved over what would be considered acceptable. They are only suitable for heads of a smaller size.
Listening Time is 6h (10 days of standby time). A full charge takes approximately ninety minutes; a fifteen-minute charge yields one hour of playback time. Controls for the track and volume are located on each earphone, and there is an automatic play/pause function. You will have access to a wireless range. 33 feet (10 m)
Pros
Light
Small Size
Comfortable
Cons
Lagging Connectivity
Poor Sound Quality
Bottomline: The Aftershotz Titanium Mini offers a completely novel method of listening to music because they do not need to be placed in the ears. They do not, however, impress on a constant basis due to a little deficiency in comfort, clarity, and volume, as well as bass that is accompanied by vibrations.
---
7. ADIDAS FWD-02
Type: Earbuds
Price: $170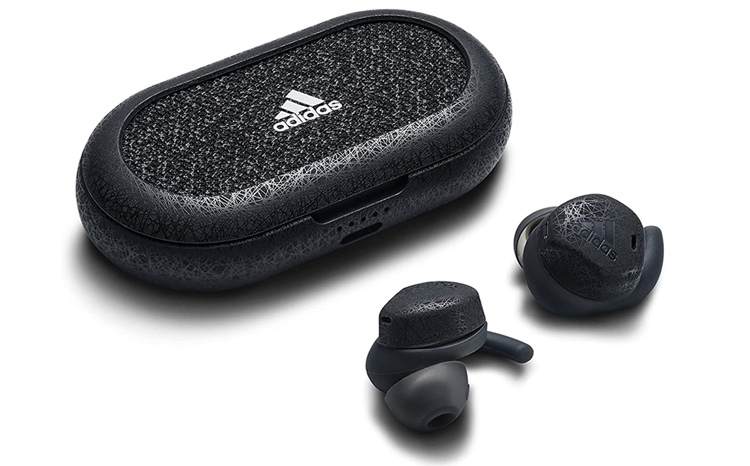 You may want to check out the Adidas FWD-02 Sport if you find yourself constantly repositioning your in-ear headphones. These headphones are designed for use during physical activity, and they come with a variety of silicone ear tips so that you may find the perfect fit.
The Adidas FWD-02 Sport headphones include this feature too, just like the Apple Airpods Pro, however, their design is different in that they 'lock' into the ear. It's a great substitute for the bulkier ESC Sounds Series 3 over-ear option, as the Series 2's lower profile prevents any helmet from getting in the way.
While I like not having to go back on a ride to look for my headphones or risk losing a virtual race because I was distracted by my earpiece during the winning break, I found the headphones to be so snug that they felt like I was wearing earplugs. In practice, they provide an occlusion effect and increase your own internal noises, which I find extremely annoying, especially while trying to listen to audio content like a podcast.
To a lesser extent, I was still aware of my heavy breathing or eating even when the ambient noise setting was engaged, which was the best option for me. Though there isn't a dedicated noise-canceling mode, these headphones nonetheless perform admirably at blocking out background noise (except your own voice).
Adidas claims 6 hours of continuous playtime, and I have yet to discover the end, as removing them and placing them in their carrying case automatically recharges the headphones for up to another 24 hours of playback, so regular use at home or at the office greatly reduces the likelihood of the headphones running out of juice.
When wearing gloves, I had no trouble using the tap controls. There's an Adidas headphones app, but I only used it to double-check the tap instructions. The breathable case is great for anyone who sweats a lot but keep in mind that they aren't completely watertight, so you should leave them at home if you're going to be riding your bike in the rain.
Speaking of perspiration, I found that the white version of the Adidas FWD-02 Sport headphones and carrying case rapidly became unsightly due to the accumulation of sweat and dirt from my hands.
Pros
In-Ear Lock Design
Noise Cancelling Feature
Responsive Ear-Tap Controls
Cons
Unreliable Controls
Average Battery Life
Bottomline: Think about getting the Adidas FWD-02 Sport if you want your wireless earphones to look good with your training clothes and deliver a powerful bass sound. They even come in a charging case that is both stylish and functional.
---
8. EKEN
Type: Bone Conduction
Price: $28
These low-cost bone conduction headphones made by Eken are an excellent choice for riding a bicycle. The built-in lithium battery has a capacity of 200 mAh, which allows it to have a standby life of up to 20 days, phone call time of up to 8 hours, and music play time of up to 6 hours.
The waterproof rate is IP54, so there is no need to worry about sweat or downpours. Additionally, the connectivity via advanced Bluetooth 5.0 is quicker and more stable than the Bluetooth 4.2 that is used by some competitors, and it can work up to 10 meters away from the device while simultaneously connecting to up to two devices.
The low playback level is a drawback, as it may render the sound inaudible in areas with a lot of background noise. 30 days of free repairs and 12 months of service under warranty have a plan for what to do if you don't like them. But for the price, they are a great deal.
Pros
Cons
Not Adjustable
Dull Sound
Bottomline: EKEN bone conduction headphones are light and have an open-ear design that makes them more comfortable and safer to wear. The new Bluetooth 5.0 makes them even better because it makes it easier and faster for the headphones to connect to your phone. The noise reduction technology gives you clear stereo sound quality.
---
9. Bang & Olufsen Beoplay E8
Type: Earbuds
Price: $350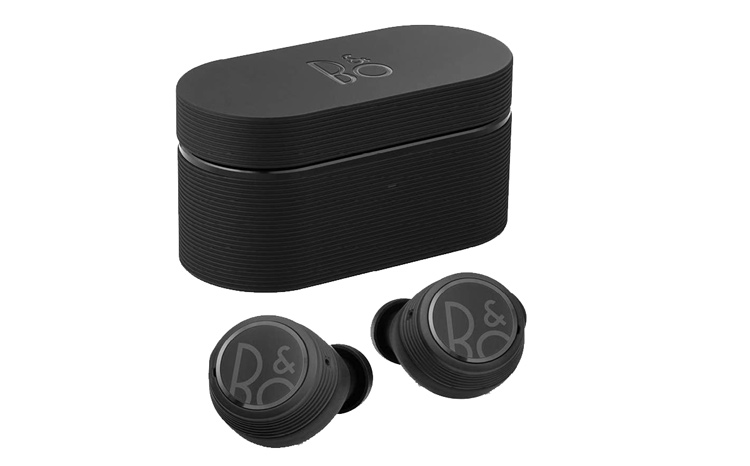 Bang & Olufsen is a well-known name in the audio industry, so it's likely that you're already familiar with them if superior sound quality is a top priority of yours. It's no surprise that Rapha sought out their assistance in a collaborative effort to get the best and, conceivably, the rarest headphones for cycling.
Bang & Olufsen Beoplay E8 Sport headphones, while not available in the Rapha edition (opens in new tab), are still available. The only noticeable change is that the cycling logo has been removed, but this hasn't resulted in a price reduction; these are still prohibitively costly. With the Beosonic app, though, you can fine-tune the sound to your individual preferences, making your investment in B&O (Bang & Olufsen) headphones or speakers feel like a no-brainer.
The high water and sweat proofing does make these acceptable for indoor and outdoor use on your bike (provided that such use is permitted in your area). When you're out and about, you can turn on the transparent hearing mode to amplify sounds around you. But if you're trying to shut out the world and focus inside, you should know that these don't have a noise-cancellation feature just yet.
These headphones are Bluetooth equipped, so you can use them with nearly any modern smartphone or device within a 10-meter range, and you can adjust the volume, skip tracks, answer calls, and more with just a few touches on the headphones themselves. Although the bulky charging case makes it less convenient to carry about than some alternatives, we applaud the device's support for both wired and wireless power sources.
In a nutshell, they're high-end in-ear headphones made specifically for cyclists.
Pros
Quality
Sleek Design
Waterproof
Highly Compatible
Cons
No Noise-Cancellation Option
Huge Charge Case
Expensive
Bottomline: The Beoplay E8 is a small yet powerful piece of audio equipment. I wouldn't hold the E8's four-hour battery life against it, even though it can be annoying for people who use their devices continuously throughout the day. These devices look absolutely stunning, and the touch controls are responsive. Yes, the price will be greater, but it nearly seems like it's worth it for the high-end polish and sonic quality.
---
10. Boltune True Wireless Earbuds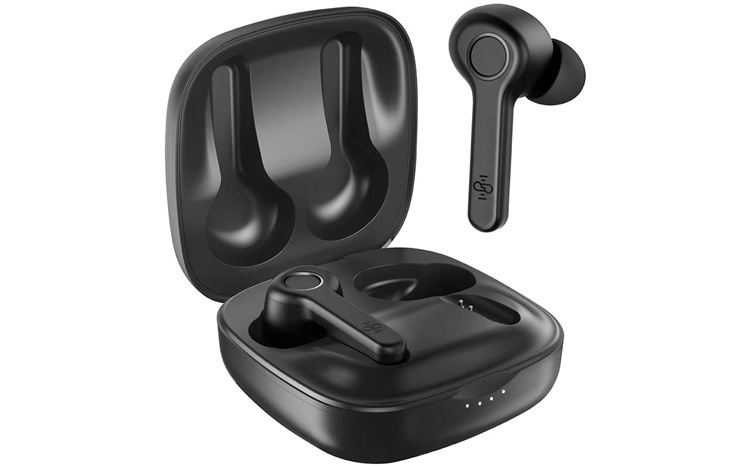 The Boltune is likely the most affordable pair of wireless earphones for cycling and other sports. They have Bluetooth V5.0 technology, which guarantees quick pairing and transmission speeds, reliable communication without signal loss or audio pauses, and a range of up to 50 feet, even through walls.
The sound characteristic produces an immersive sound that puts you in the heart of the stage, and the audio quality is astoundingly good for the price. They have Bluetooth V5.0, which significantly lowers the amount of power consumption and allows for 6 hours of playback. With the charging box, you can listen to music for up to 34 hours.
When you add the 6 hours of battery life from the Boltune earphones to the 34 hours of charge held by the small, lightweight magnetic charging case, you get a whopping 40 hours of gameplay. The Type-C USB 3. 1 connector has a 10 Gbps maximum transmission speed and takes 90 minutes to fully charge.
The lack of any ambient mode to allow you to listen to the surroundings is a major drawback, aside from the somewhat mediocre phone call quality. Utilizing one at a time or at a very low volume is your best bet for making them secure.
As it has an IPX7 rating for water resistance, the Boltune True Wireless can be used in the shower or washed off after usage. These remain in your ear fairly well after you get them to fit snugly. You can do a good amount of head shaking and leaping before they start to come loose. These are excellent for mountain biking.
Pros
Prolonged Battery Life
Waterproof
Value For Money
Cons
Not Suitable For Phone-Calls
Lacks Ambient-Mode
Bottomline: Like many inexpensive headphones, the Boltune BT-BH024 is adaptable but lacks functionality. They have a bass-heavy sound profile that pumps up your music. These lightweight in-ears are pleasant and stable enough for modest exercise. Their portable charging bag may deliver five more charges.
---
Do Headphones Help or Hurt While Riding?
Since the invention of headphones, there has been discussion on whether or not cyclists should listen to music while pedaling. Using headphones while driving is a clear and present danger.
Unplugged From Surroundings
The most significant worry is that it reduces a cyclist's ability to hear approaching vehicles and other warnings, such as people shouting, dogs barking, and doors opening. When we ride our bikes, we can't ensure everything is running smoothly because we have our headphones in. While one of the purported benefits of bicycling is getting up close and personal with one's surroundings, listening to music on a portable device adds yet another layer of technology that disconnects us from that setting. Also, I'd like to think that my brain is strong enough that I don't need an MP3 player to get me through a long ride or a particularly challenging interval.
Safety Concerns
The issue of safety is central to the discussion. But even if headphone use does pose health risks, so what? Likewise, cycling in the open air, through the rain, or down a mountainside is an exciting experience. Staying inside where it's warm and dry is my best bet for security. There's an analogy that can be made between not using headphones and not using a helmet.
Many cyclists treat helmet use as mandatory, however, this is a completely arbitrary standard. Even though I always wear one, being forced to do so is annoying. However, the dangers associated with using headphones are more nuanced. Reason number one is carevfor the well-being of other motorists. Perhaps cyclists should refrain from using headphones for the same reason that drivers who insist they can safely text and drive should refrain from doing so: it's unjust to take unnecessary risks in other people's road space, regardless of one's own risk tolerance.
Hearing Loss
Loss of hearing has also came to my attention as a problem. At 85 decibels, which is only around 70% of the maximum level on a standard MP3 player, permanent damage can begin. It's logical to suppose that a cyclist's headphones would need to be significantly louder to withstand the noise of traffic and the constant buzz of wind in our ears, which currently reaches that level on busy streets.
Traffic Safety Concerns
When it comes to traffic safety, people worry that wearing headphones or riding without a helmet makes accidents more likely or worse. Many people are willing to take this risk because they can easily see what could go wrong. Either you get hurt or you don't, and it's easy enough to ride carefully to avoid getting hurt.
The Best Headsets For Cycling
The option to ride a bike while listening to music or audiobooks is not only a personal one, but also a legal one in some places. Of course, you want to make use of all your senses possible while cycling, but your sight is by far the most crucial. On the road, deaf people can ride in complete safety. Ultimately, we should all be watching out for one another.
Bone Conduction
The benefits of bone conduction include comfort and alertness, while its drawbacks include low sound quality and battery life.
Earphones
Although most earphones, whether wireless or wired, are less expensive, sound great, and are difficult to lose, they tend to muffle too much outside noise, making riding on highways risky. Another drawback is that cables, even on wireless devices, can be a pain.
Wearable Speakers
Another "innovation" that is often overlooked while considering the finest sound system for cycling is wearable speakers. However, they are a really wise choice because they free up your ears so you can hear better than bone conduction and monitor your surroundings. The drawbacks are increased weight and some bouncing.
In my opinion, the finest headphones for cycling are bone conduction models since open ear models are preferred for listening to ambient noise and situational music. Bone conduction headphones received nearly full marks in the test since they demonstrated that we could always hear approaching autos.
If you're still not sure, choose a set of headphones to listen to your favorite music while using one of the best workout bikes(opens in new tab), or use one of the best indoor training applications to simulate the outdoors inside.
What Can Cycling Headphones Offer You?
Now you must be asking this question, what can the right cycling headphones offer you? With the right headphones, you will be able to enjoy almost every aspect of cycling without worrying. They can offer you amazing sound clarity, waterproofing, amazing comfort, access to applications, and much more. If the headphones are water-proof then that will also make them sweat-proof, this means that no matter how much you sweat, it would not have an adverse effect on your headphones.
There are plenty of reasons to get a good pair of cycling headphones. Well, first of all, you can listen to your amazing playlist during the rides, and you will also be able to upload all of that information to Zwift or other applications. Listening to music with the highest volume whether it is cycling indoors or outdoors is just bliss, or you can use the headphones for other reasons. Some people love listening to podcasts that reflect on life or even some new innovative ideas. With a really good pair of headphones, you can easily shut off the outside world and focus on yourself entirely, just try it for yourself.
For The People That Are Against Cycling Headphones
There are plenty of people that would be against cycling headphones, for indoor use they are perfect but not so much when it comes to cycling outdoors. Many people believe that when cycling outdoors, it is necessary to listen to what is happening outside, otherwise, there is no actual enjoyment. What if we told you that there are some really amazing cycling headphones out there that you can use? These will allow you to enjoy your music while also allowing you to listen outside.
In this review and buying guide, we will be sharing some of the best cycling headphones out there. These headphones will have the latest bone conduction technology and will also be sweat-proof. We want you to enjoy the ease of volume control and perfect sound clarity.
FAQs
Is It Illegal To Wear Headphones While Cycling In The US?
Using headphones while cycling or driving is currently not prohibited countrywide in the USA. Instead, each state must establish its own limitations and regulations. It's crucial to examine the regulations of the state you're in if you enjoy listening to headphones while driving.
Is It Safe To Wear Headphones While Riding?
A quick experiment revealed that wearing headphones at a respectable volume does not make you less susceptible to hearing road noise than drivers.
Also Read
Conclusion
On our list of the 10 best headphones for cycling, you'll discover some incredible options to choose from. Every one of these models is beautiful in its own special way. We believe that the Haylou Purfree are the ideal headphones for cycling since they do not cause discomfort to the ears, they do not block out ambient sounds as a typical earbud would, and they stay securely in place.
However, we recommend that you scroll up and read our reviews in order to choose which model is the greatest suited for your lifestyle, as well as your budget and the requirements that you have.