A perfect cycling kit is totally incomplete without the gloves, cycling gloves don't just complete the kit but also protect and comfort the rider's hands especially if there is a crash. Most cycling gloves also enhance the grip of the rider and give protection against extreme cold weather.
Cycling gloves are available in different shapes and sizes, you can either go for the full-finger warmers or opt for the fingerless option, either way, you are going to enjoy these gloves to their absolute limit. If you want to refrain from over-heating then going for the finger-less gloves is an amazing option.
Different Gloves Different Features
These cycling gloves are also made with special materials that give them unique features. Some of them may prevent the nerves from compressing, while others may offer insulation and water-proofing.
Wearing gloves is very necessary if you want to enjoy all the benefits of cycling, although getting the perfect glove for yourself can become tricky since there are so many options in the market. It does not matter if there is cold or warm weather, we have compiled some of the best gloves that you will enjoy!
The Top 10 Bike Gloves Ranked:
In our guide, we have included some of the best summer and winter cycling gloves that you can enjoy. Almost all of them have gel padding and will provide the best level of comfort and performance. So let's get started!
1. GripGrab Progel Short Cycling Gloves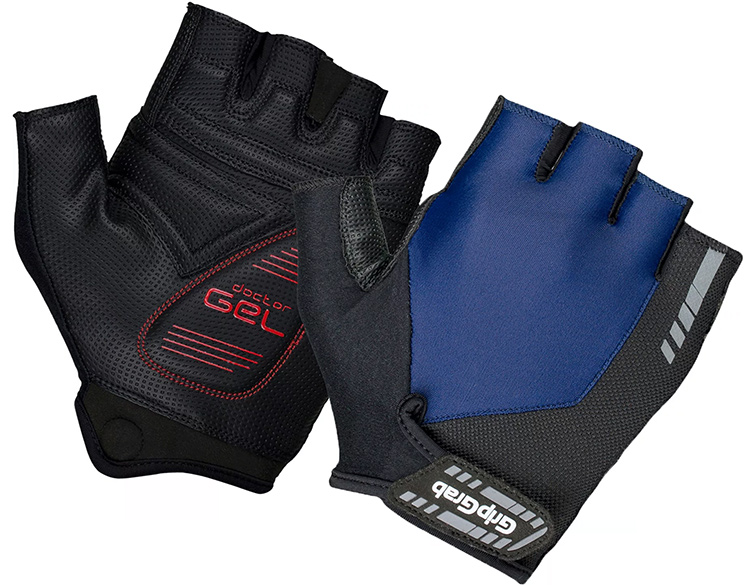 Price: MSRP $37
The GripGrab gloves are for those that experience extreme levels of nerve pain while riding. Not only will these gloves make sure that you are comfortable while riding but will also ease the level of nerve pain at that time, this makes them the ultimate choice for riders.
The gel-foam padding combined with the synthetic leather palm just works wonders here, ultimate comfort is given to the riders that use this amazing pair of gloves. The features of the glove are also amazing, you have a nose wipe, a Velcro strap for easy tuning, and reflective details to keep the hand signals visible, you will certainly have no complaints with these amazing gloves.
Advantages:
Great Comfort
Gel-Padding
Amazing Grip
Magnetic Storage Solution
Disadvantages:
Wrist Hem Can Cause Rubbing Problems
Why I Like It: There are a lot of riders that experience nerve pain while riding and it can certainly be a huge annoyance. With these pairs of gloves, you will always have top comfort and performance while riding. It can cause some rubbing problems but that shouldn't be that much of a concern if you have the right size.
---
2. Assos Summer Gloves S7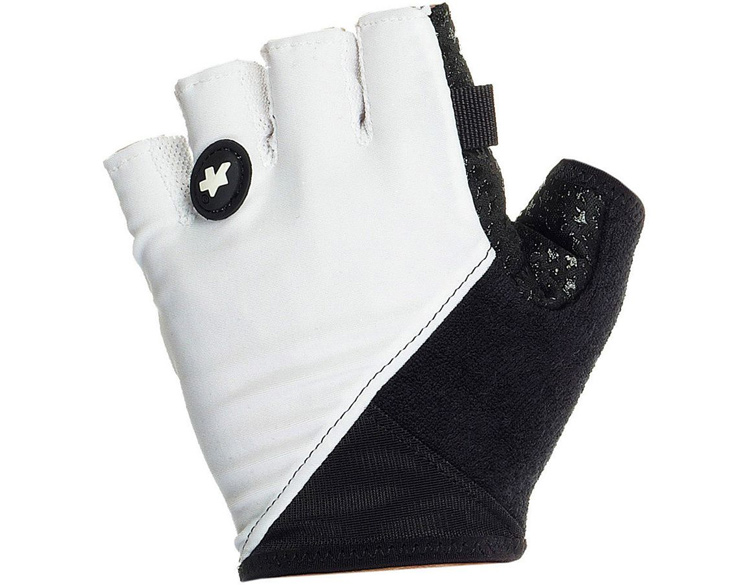 Price: MSRP $40
Summers can be amazing, you can enjoy those smoothies and amazing rides but when it gets sweaty, the traction and grip on bikes loosen up. For that we have the perfect solution, the Assos Summer Gloves S7 is here to make your summer rides fun and comfortable again.
These gloves stop your hands from sweating and that way even if something terrible happens on the road, you will still be safe and won't have to go home with severe injuries like grazed palms, which can be quite horrible. Safe to say that the Assos S7 Gloves are made for the WORST summer days, so no matter how hot it gets, you will always get to have fun rides.
The thin and lightweight fabric of the glove enhances breathability and comfort. The gloves have gel-padded palms that make sure that riders enjoy amazing traction.
Advantages:
Lightweight Design
Comfortable Grip
Thumb Wipe Panel
Aero Fit
Disadvantages:
Taking The Gloves Off Is A Drag
Why I Like It: The Assos S7 gloves are perfect for summer rides, they make sure that you have an amazing grip and are comfortable while riding. They also promote breathability, everything is awesome about these gloves but taking them off is a real drag.
---
3. Endura Hummvee Plus Mitts II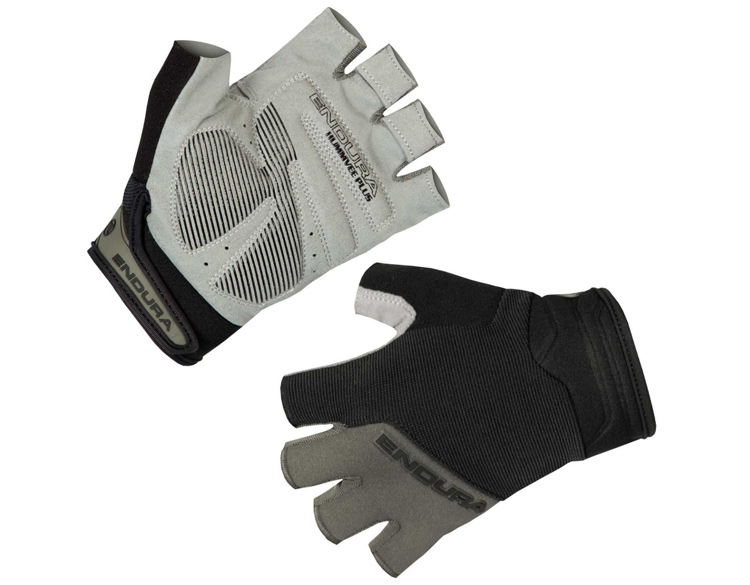 Price: MSRP $25
The Endura Hummvee Plus Mitts are perfectly suited for all the rough riders. These amazing pair of gloves ensure maximum shock absorption while riding, making them a perfect choice if you want to go wild on your adventures.
These are all-rounder gloves, use them for rough riding or smooth sailing, they will definitely give you the best comfort. In the case of road surface blemishes, these gloves are going to be your best choice, and you can check that yourself. As they are made from durable stretch fabric, this makes them perfect for some hardcore mountain biking.
The gloves have an ergonomic palm design, this means that you will always have a natural shape while gripping the bars. The only thing that you won't like about these gloves is that they are a bulky option as compared to other gloves in the market. Wearing gloves like these is going to make you feel invincible!
Advantages:
Perfect For Rugged and Sleek Experiences
Made From Tough Stretch Fabric
Amazing Comfort
Knuckle Protection
Disadvantages:
Why I Like It: The Endura Hummvee is amazing all-rounder gloves and you can use them for all sorts of adventures. I honestly loved the ergonomic palm design, they make sure that you have a natural look whenever you use them and that is amazing. They are a bit heavy than other options in the market but still worthwhile.
---
4. Endura FS260-Pro Aerogel Mitts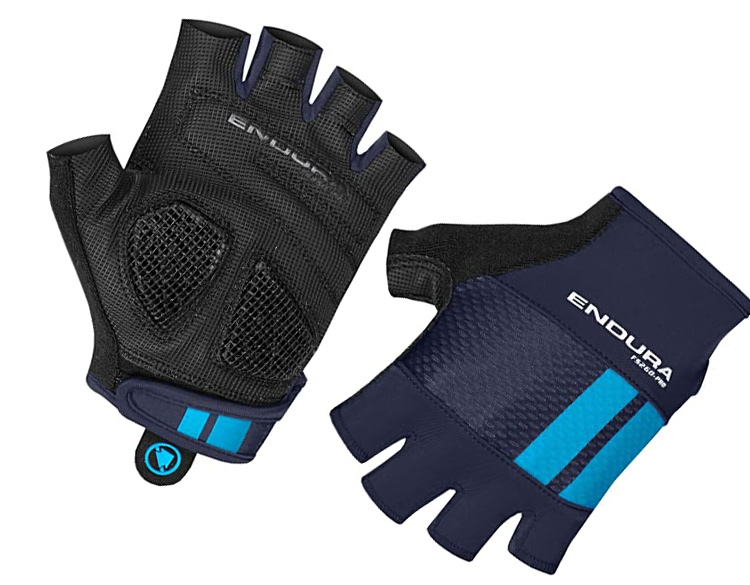 Price: MSRP $44.99
You might have seen other gloves in the market that are amazing, but you have never seen anything like the Endura FS260-Pro Aerogel Mitts, these gloves are just fabulous. They promote breathability and are also very resilient, once you get them, you would be using them for a very long time.
Even if your hands overheat frequently, the voids in the pads of the gloves would help in shedding some heat. These gloves would be a decent addition to your cycling kit as they have all of the necessary features like a thumb panel and finger tabs.
The fabric that is used for this glove is highly-stretchable and wicks away moisture, this is paired with microfibers, as I told you before, you would be using these gloves for a very long time and enjoying their comfort. Just get them once, and you won't have to find a replacement again.
Advantages:
Gel Padding
Comfortable Design
Available In Vibrant Colors
Disadvantages:
Difficult To Get The Perfect Size
Why I Like It: I tried these gloves multiple times and every time I got to use them I had an amazing experience. From the perfect grip to the comfort, you are absolutely going to love these gloves just be sure to get the right size for yourself.
---
5. SupaCaz SupaG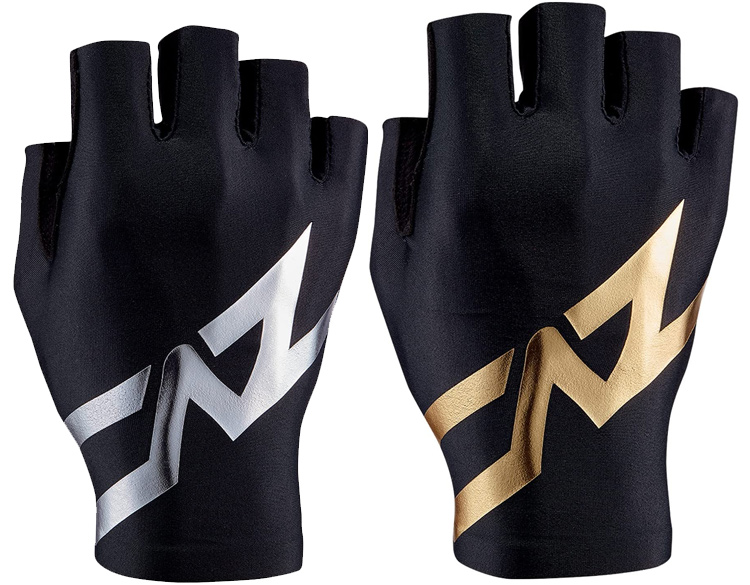 Price: Starting at $15 Only
Some people wear the winter cycling glove and fingerless gloves to have a better grip while riding and to protect themselves from the cold weather, while others wear them to make a fashion statement. If you want to look classy and fabulous while riding, then the SupaCaz SupaG gloves are for you.
While wearing these gloves, your palms are going to remain road-rash free and you will also look quite stylish while riding. Trust me when I say this but this is a goal for many riders out there, all they want is to look extremely classy.
The SupaCaz SupaG have a very cool aero cut, and are made from lightweight fabrics, putting them on and off is really difficult though, I hope they fix with adding some kind of support. Clarino Leather is used for these gloves, which makes the rider feel comfortable and have one amazing grip.
Advantages:
Features Silicone On Palm
Available In Vibrant Colors
Great Comfort
Disadvantages:
Why I Like It: Everyone wants to look stylish while riding, even if they don't admit that. With the SupaG gloves, I always feel like I am in control. My neighbors have their eyes peeled on me, with my riding skills I feel I am making a fashion statement. These gloves really make the user feel alive!
---
6. Giro Siv Road Glove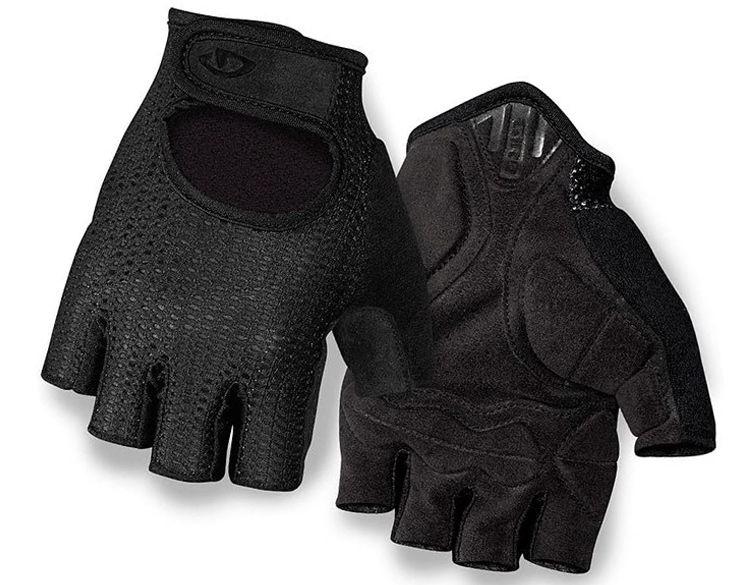 Price: Starting at $8 Only
Everyone loves classic design, the designs that helped shape this new era of cycling kits. Whether you are a fan or not of the oldies, you are absolutely going to love the Giro Siv Road Gloves. These classic mitts have been designed for the new era with enhanced features and performance.
These gloves are certainly better than leather, they have a three-piece microfibre palm that is great for moisture-wicking and ventilation and the nylon-mesh certainly makes the design and feel of the gloves better. Plus, the features of this glove are amazing, you will certainly love the plush nose wipe.
Also, one of the best things about this pair of gloves is that they are inexpensive, great quality is an affordable price.
Advantages:
Classic Design
Amazing Grip and Comfort
Premium Materials
Disadvantages:
Creates An Itching Sensation
Why I Like It: I am a fan of the classic gloves, no matter how old-school they were, they were an amazing icon. The Giro Siv gloves are a blast from the past, they are like an amazing fusion of the past and the future, this makes them one of my favorite pairs of gloves.
---
7. Showers Pass Crosspoint Waterproof Knit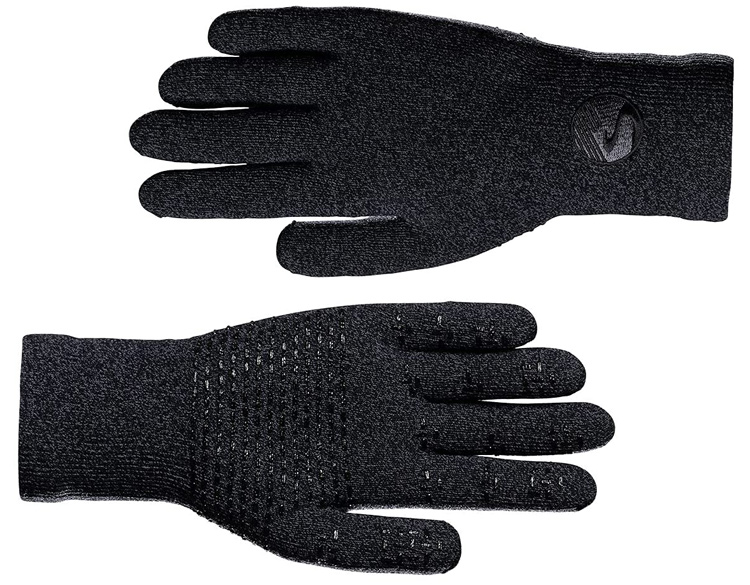 Price: MSRP $50 (Price May Vary)
It is not always recommended to go for the premium gloves, you can still make an amazing investment in gloves for just $50. If you don't believe us then you should certainly try the Showers Pass Crosspoint Waterproof Gloves, these are amazing waterproof gloves that will keep your hands warm.
These full-finger gloves are best for cold weather, they offer enough insulation even if the temperature is around freezing, the is one less worry for you. These gloves generate enough body heat, we tested them and found that they work perfectly around 30-degrees.
One thing that you have to know about these gloves is that they trap body heat, your hands won't start getting warm immediately, they will be cold at first and then they will start getting warm and the comfort will kick in.
These gloves are going to be the perfect companion for rides in rainy and extremely cold weather, just give them a try!
Advantages:
Offers Amazing Grip
Great Comfort
Disadvantages:
Not Suitable For Below Freezing Temperatures
Why I Like It: For winter cycling, the Showers Pass gloves are an amazing choice. They are waterproof and keep the hands pretty warm, what else do you need? Just be careful, they are not that effective below the freezing point so keep a secondary pair of gloves with you while using these.
---
8. Giro Xnetic Trail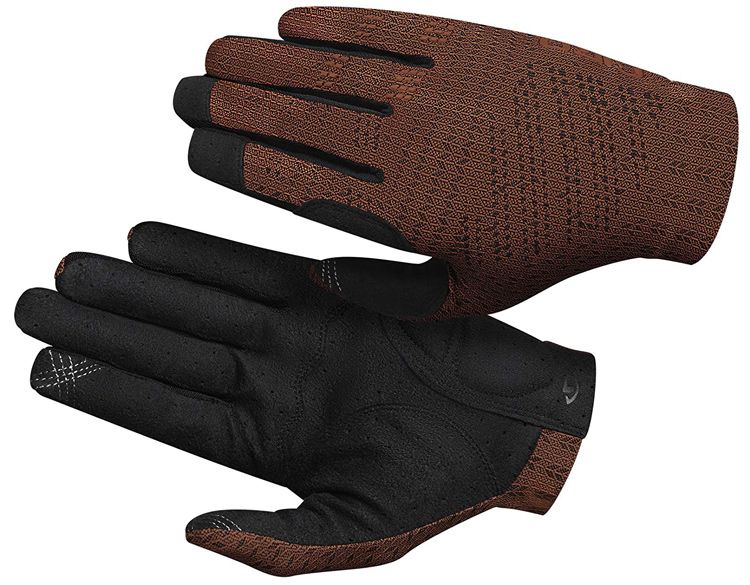 Price: Starting From $30 Only
Great news for mountain bikers, if you are looking for an amazing pair of gloves to help you conquer every type of terrain then get the Giro Xnetic Trail gloves. These gloves protect you from the wind chill and will always keep your hands fully warm while cycling.
One of the main things that I love about these gloves is that they take no time in getting warm, even if you take a break from riding or make a stop, or have sweaty clothes and hands, these gloves will heat them up in no time. The insulation is perfect, and they don't even get soggy.
These gloves fit pretty tight, so always choose a bigger size than usual when ordering, this will make sure that the gloves fit you nice and tight.
Advantages:
Touch Screen Compatible Thump Tips
Amazing Comfort and Grip
Perfect Breathability
Disadvantages:
Why I Like It: Mountain Bikers are going to love these full finger gloves, they keep you warm enough and also offer amazing grip. Even if you get really sweaty, they will still be able to make your hands warm again without overheating. The sizing structure is a bit awkward, so my advice is to get a bigger size than usual.
---
9. Pearl Izumi P.R.O. AmFIB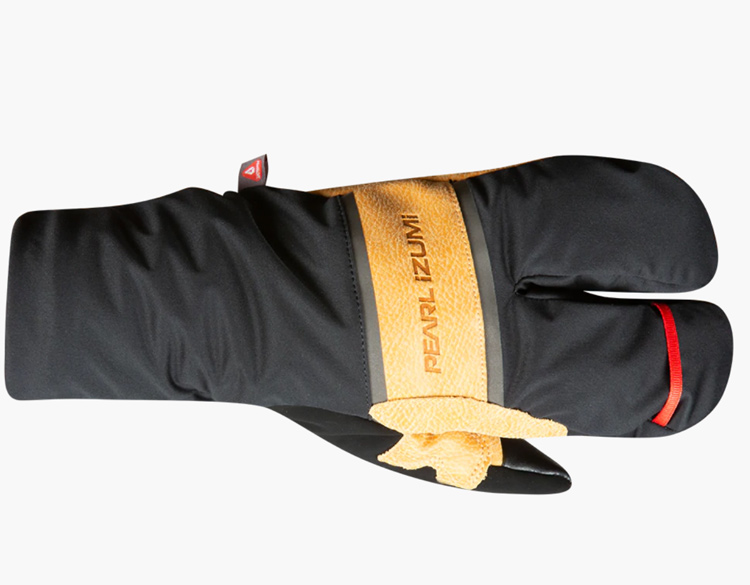 Price: MSRP $85
Have you ever tried lobster gloves? If you haven't then with the Pearl Izumi P.R.O. AmFIB gloves, you have the perfect opportunity. Even below the freezing temperatures, the Pearl Izumi lobster gloves will keep you exceptionally warm. Yes, there might be some problems with the freedom of movement but they are the perfect choice if you want to ride in extreme weather.
These gloves are comfy and flexible, and they are cheap too. Wearing them will make you feel like Spock from Star Trek and that is another great reason to get this pair. Between your two fingers, there is going to be a small compartment that will help in wicking away moisture.
The wrist of the gloves is closed with a Velcro strap, and the inside is just amazing, cozy, and plush, just as people love it. If you like riding at nighttime then this is the glove to get, the reflective fabric on the top of the glove makes using hand signs easy.
Advantages:
Amazingly Warm
Great Comfort
Works Great In Night-Time
Disadvantages:
Compromised Freedom Of Movement
Why I Like It: Lobster Gloves are amazing, although they are a tad difficult to use, they are exceptionally warm. Whether you want to ride your bike in the day or at night time, you will always feel super comfortable using these gloves. Although there will be compromised dexterity, you will still love these gloves.
---
10. DeFeet Duraglove Wool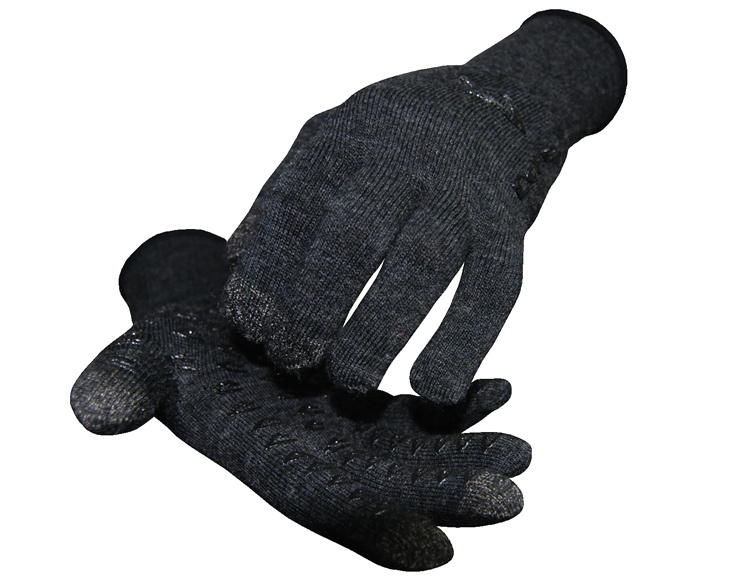 Price: MSRP $29.99
The DeFeet Duraglove Wool gloves are going to complete every kind of winter cycling kit, you are just going to love the experience when you try them out. They fit really well, don't compromise dexterity, and are also aesthetically pleasing, what else would you need?
The Duraglove wool keeps you warm while you ride, they are also very light so you would have absolutely no problem using them. Even if the weather isn't that cold, your hands will remain toasty without ever overheating. They are easy to take off, so if it gets really hot outside then you can always stash them in your pocket or bag without a fuss.
Just know that these amazing pairs of gloves are not recommended for rainy days, other than that, you can use them for any kind of weather.
Advantages:
Great Comfort
Best For Mild Weather
Great Freedom Of Movement
Disadvantages:
Not Suited For Rainy Weather
Gloves Are Not Wind-Proof
Why I Like It: Inbike cycling gloves like the DeFeet Duraglove Wool are amazing because they keep the rider warm and also enhance the freedom of movement. This is rare to see that is why I really love using them, they could have been wind-proof but that is also totally fine.
---
How To Choose The Perfect Pair Of Cycling Gloves?
You would have certainly heard the saying-"Fits Like A Glove", but have you ever wondered what does it mean exactly. It is directly related to comfort, ease of movement, and relaxation. Cycling gloves fit on your hand really well, they are well-suited and are compliments to the whole cycling kit.
Cycling gloves are very necessary, they protect the rider from elements like sweat, they also promote comfort and grip which is very necessary while riding. Now that we know how important gloves are for riding, getting them is hard, and it becomes even harder if you don't know what you are looking for.
Here we discuss, what makes the best pair of cycling gloves and what should you look out for?
How Will You Be Using The Gloves?
The main consideration while buying the cycling gloves is that how will you be using them? There are a lot of different movements to make, hand signals, how you are using the handlebars, all of these aspects have to be taken into consideration while purchasing the gloves.
The design of the gloves also matters, some of them are going to promote breathability while others may offer enhanced insulation. Think of all these factors before buying a pair!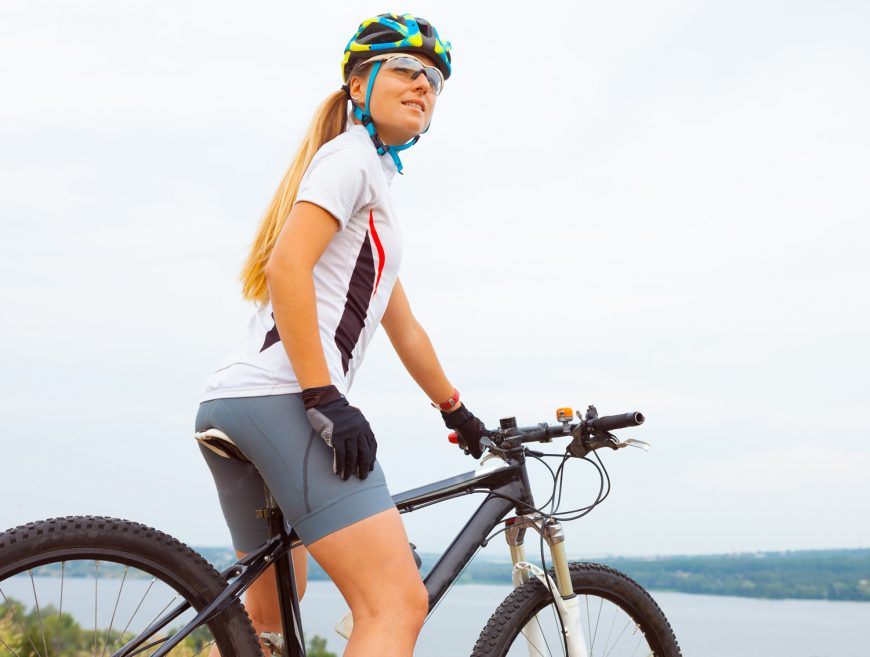 The Different Types Of Cycling Gloves
As you might have guessed, there are different types of cycling gloves. Let me explain them for you:
Half Finger Gloves: These types of gloves are just going to cover your palms and nothing else. Best suited for warm weather.
Full Finger Gloves: These types of gloves cover the whole hand. They offer great insulation and comfort, perfectly suited for cold weather.
What Kind Of Cycling Would You Be Doing?
There are different types of cycling and these types require different gloves. The movements are different, the terrain is different, so that is why you have to keep this aspect in mind.
Road Biking
Road Biking is amazing, and that experience is incomplete without cycling gloves. There is a lot of difference between road bikes and mountain bikes, especially when it comes to suspensions. So, if there is any kind of shock on the road, it can and will be easily transferred to the rider's whole body through the bike's frame and handlebar, sometimes this can become really dangerous.
Although if the rider is wearing padded gloves then the shock can be minimized and contained, this way it does not pass on to the rider's body. A cloth patch on these gloves is also recommended to wipe the sweat away while riding.
Mountain Biking
Cycling Gloves are very necessary when it comes to mountain biking because these gloves offer grip and protection. When riding on trails, the hands are going to act as the extensions of handlebars, this is done to maintain control.
Mountain bike gloves offer padded palm support to protect against injuries and also give maximum grip. These types of gloves need to be resilient and durable.
Different Materials, Different Gloves
Cycling Gloves are made from different materials, all of them have their unique advantages and features this way. The different materials are:
Polyester: This material is highly breathable, wicks away moisture but offers very limited weather resistance.
Acrylic: This material is breathable but still very stretchy. Offers limited weather resistance.
Polypropylene: This material offers the best kind of weather resistance, but is not that great for wicking away the moisture.
Fleece: This material is best suited for cold weather, offers maximum insulation.
FAQs
Question 1: Which Gloves Are Best Suited For Cycling?
There are a lot of brands that you can go for, amongst those brands are GripGrab, Assos, Endura, and many more.
Question 2: Are Gloves Good For Cycling?
Gloves are very necessary for cycling, they offer the necessary grip and protection.
Question 3: Are Cycling Gloves Cheap?
You can easily get a good pair of cycling gloves for $25.
Recap
Cycling gloves are very necessary if you want to have the best riding experience, they complete the cycling kit and also protect the rider's hands from dangerous elements. As they are very important, it also gets fairly difficult when searching for the right pair, that is why we created this guide for you.
In this guide, we discussed different types of gloves both suited for cold and warm weather, and all of them have their own unique features and set of advantages. Apart from that, we also discussed what to look for in the perfect pair of gloves.
We hope that this guide answered all of your burning questions and proves to be very useful. If you have any questions then do reach out to us in the comments below!