Bike riders have a lot of adventures, even going on the road alone counts as an adventure. If you are a person that loves to record these moments then getting a GoPro for your bike helmet is the right move. A GoPro camera will allow you to capture exceptional footage, may it be videos or photos, you can even edit them later on.
GoPro Cycling is amazing, it makes the person feel more alive than before, this way, you can share your adventures with the rest of the world. You may be thinking that just attaching GoPro cameras to the helmet are the only viable option, that is certainly not true, although his method is the easiest and the most convenient, you can also mount these cameras on other places as well.
What Are The Other Perfect Areas For GoPro Mounts?
Helmet mounts are not the only place where you can attach the GoPro helmets, there are a variety of places. It all depends on what makes you comfortable and how you want to capture the footage. Below is the list of places where you can easily attach a GoPro helmet:
Helmets
Handlebar
Seats
Wheel Skewer
Chest Mount
We will discuss all of these mounts in time, but remember that you have a lot of options whenever you want to try GoPro cycling! Even if you have a vented bike, you can try out all of these options. Getting an adjustable strap makes mounting very easy, so do consider that!
How To Attach GoPro On Bike Helmets?
With the bike helmets, you are aiming for a POV perspective, you want to capture the footage like you are experiencing it. This is a great way to record every kind of footage but you have to know about the speed of the footage, it will be slower than what is actually being recorded.
This is because of the perspective of the footage, not the speed, I think that this is the only downfall of using the GoPro on bike helmets. The results of a helmet cam are amazing, especially when you combine it with different angles. You can also switch between different mounts for the camera while riding, this comes in really handy.
Applying The GoPro
GoPro helmet mounts are amazing, once you have mastered using them, you will not want to use any other way of capturing footage. Applying these cameras on the helmet isn't that difficult, just clean the area where you will be sticking the GoPro, make sure that it is clean and dry.
You can wipe the area with a clean wet cloth and let it dry for 30-60 minutes, after that, just stick the GoPro camera. You need to look for a flat area to mount the camera, the modern bike helmets have a dedicated area for GoPro cameras but even if they don't, you can easily find a suitable area. The area where you will mount should have the most surface contact with the helmet, don't forget that.
Once you have applied the GoPro, leave it there for exactly 12 hours, making haste is a mistake here. It may seem that the mount has been installed perfectly but it really needs to be 12 hours otherwise it will just come right off.
Many people make the mistake of resticking the mount once it has come off, don't do that! The helmet should be changed or a whole new mount should be used. Now that the mount has been successfully installed, you can place the GoPro there and enjoy the ride!
How To Attach GoPro On Bike Handlebars?
As we discussed before, helmets are not the only place where you can attach the GoPro. Handlebar mounts are very popular, and even GoPro is making some of the most amazing mounts for handlebars.
When it comes to the Handlebar mounts there aren't any great options that you can find, the GoPro mount is the only decent handlebar mount that I got to try. In order to use these mounts, make sure that you have gotten the correct-sized rubber shim. Once you have attached the mount, just make sure that it is clamped right, after attaching turn on image stabilization on your GoPro.
How To Attach GoPro On Bike Seat?
This type of GoPro mount will be attached under the bike saddle and on the rail bars. If you haven't tried this type of mount then now is the best time for it. Get a metal mount if you want to try it this way, there are some plastic options too in the market but you have to avoid them at all costs.
Before you install this type of mount, it is highly recommended that you clean the rail bars first. Give them a nice old rub, even if you have to use a wet cloth, do that! You can even use some Loctite on the rail bar screws, this will make sure that they don't get loose or anything.
The results from this mount will be completely different, the footage will be upside down but you can always edit that and make some adjustments of your own.
How To Attach GoPro On Bike Wheel Skewer?
Attaching GoPro on a wheel skewer? Is that even possible? If you asked this question a while back, like 5-6 years ago then it would have seemed like a joke or madness but with the technology of today, this has become possible, actually many riders are using it. GoPro mounts are useful like that, now they can be attached almost everywhere.
This is the kind of position that is going to impress a lot of people, the wheel skewer position offers a very dynamic pose and camera, which is definitely worthwhile. Using it is also very easy, here is how you set it up.
The GoPro adhesive mount is going to replace the nut which is at the end of the wheel skewer. This will then slightly stick out from the wheel's side. Trust me, this is unlike anything that you have ever seen before, the dynamic capabilities of this position are just amazing.
Using this type of mount is amazing but you also have to consider the hazards here, what if something comes into contact with the camera this way, what if it gets damaged?
Should You Use Different GoPro Mounts?
With the GoPro mounts and GoPro cameras, having just one option can become really boring quickly. You will get to capture only one kind of footage and that will not be exciting, that is why you need to spice up your adventures by adding different curved mounts to keep things interesting.
These alternate perspectives and directions are going to help you in making amazing footage that will bag you a lot of views and subscribers if you are trying to become famous. Try syncing all of the cameras, this will make sure that all of your recordings are on the same page.
Remote and Apps Compatibility
The best thing about using the GoPro cameras is that they can be controlled with apps and also offer remote support. The Apple Watch App is just amazing if you want to use the GoPro cameras, you can easily capture great footage with the Apple app.
Other than that, we have the GoPro Remo, you can mount this easily on your bars and start and stop the footage whenever you want. These are all the options that you can try out!
Best GoPro Accessories
Whether it is the simple GoPro mounts or GoPro helmet mounts, they are not complete without the accessories. These amazing accessories for the GoPro device act as a compliment and enhance the overall experience.
Let's take a look at those amazing accessories that we can use to enhance GoPro cycling!
1. Neewer 50-In-1 Action Camera Accessory Kit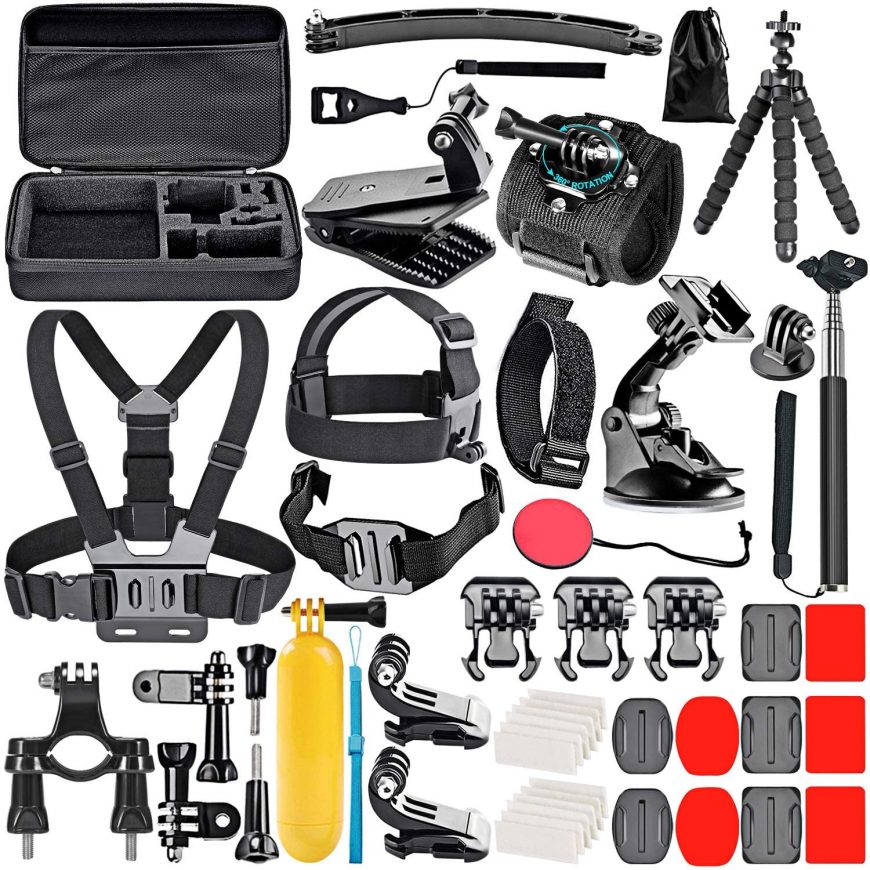 Price: MSRP $39.99
There are many GoPro knock-offs in the market, they even come with their dedicated accessory kit but have extremely poor quality. Although, if you want to use the original GoPro, it does not come with its exclusive accessory kit. That was a problem before but not now, with the Neewer 50-In-1 Action Camera Accessory Kit, there are plenty of mounts that you can use.
The Kit offers different kinds of mounts for different situations, I was actually surprised when I got to use the kit. Some of the options that I got to use were a helmet strap mount, chest mount, in the kit there were some of the best GoPro helmet mounts. There is also a vented helmet adjustable strap in the kit that you can use!
The best thing about this kit is that it isn't just for the bike, but also for a motorbike and ski if you like snowboarding, you can use the kit for a variety of different positions. The value of this kit is really amazing, try it out for yourself!
Advantages:
Varied Options
Compatible With Most GoPro Cameras
Affordable Option
Disadvantages:
---
2. SanDisk Extreme microSD Card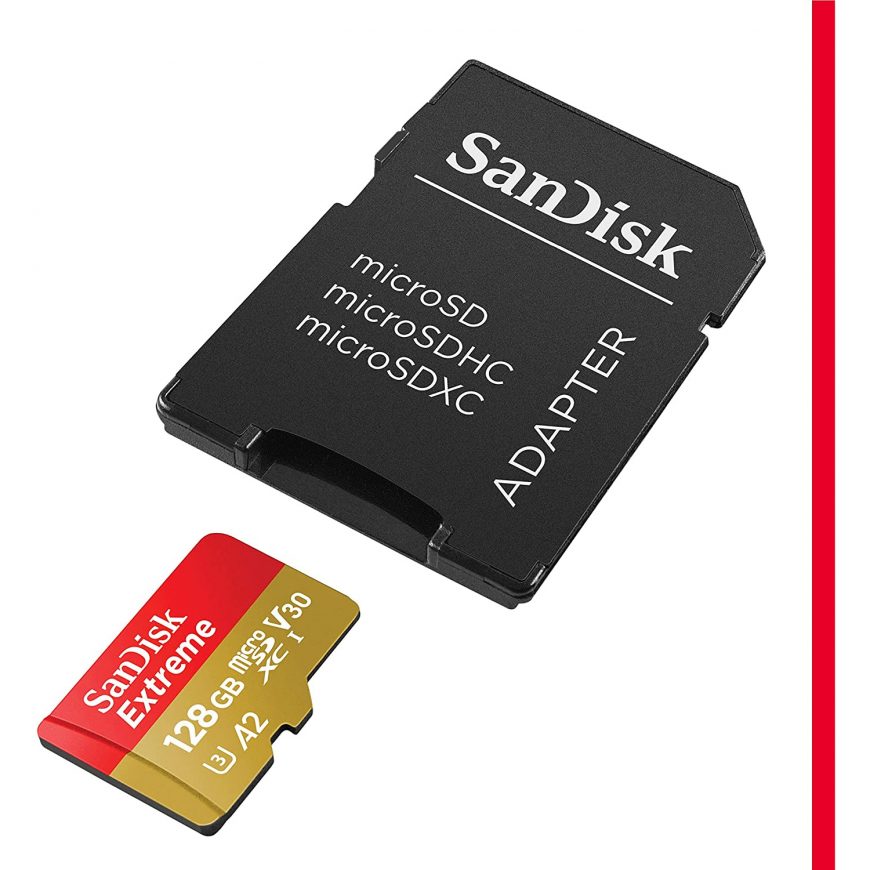 Price: MSRP $20.89
No matter what kind of GoPro camera you have, you will always need a microSD card to store all of that amazing footage. If you have been using the Hero10 and Hero9 cameras, then you know that they can easily capture 5K video, which is just phenomenal.
There are other great cameras too like the Hero8 Black and Hero7 Black, apart from capturing the normal 4K video they also capture a 360-degree 6K video, if you want to try that out for yourself then you will certainly need more than the 32 or 64 GB SD card.
It is recommended to go for the 256 GB variant of the SanDisk Extreme microSD card, this will make sure that you capture all of your footage easily without any kind of problems. If you can, try getting two cards, one will act as a backup. When getting the card, also make sure that they are UHS Class 3, which means that they can write 4K and 6K data at a very high rate.
Advantages:
Very Fast Writing Speed
Amazing Storage Capacity
Affordable Price Tag
Disadvantages:
---
3. Amazon Basics Carrying Case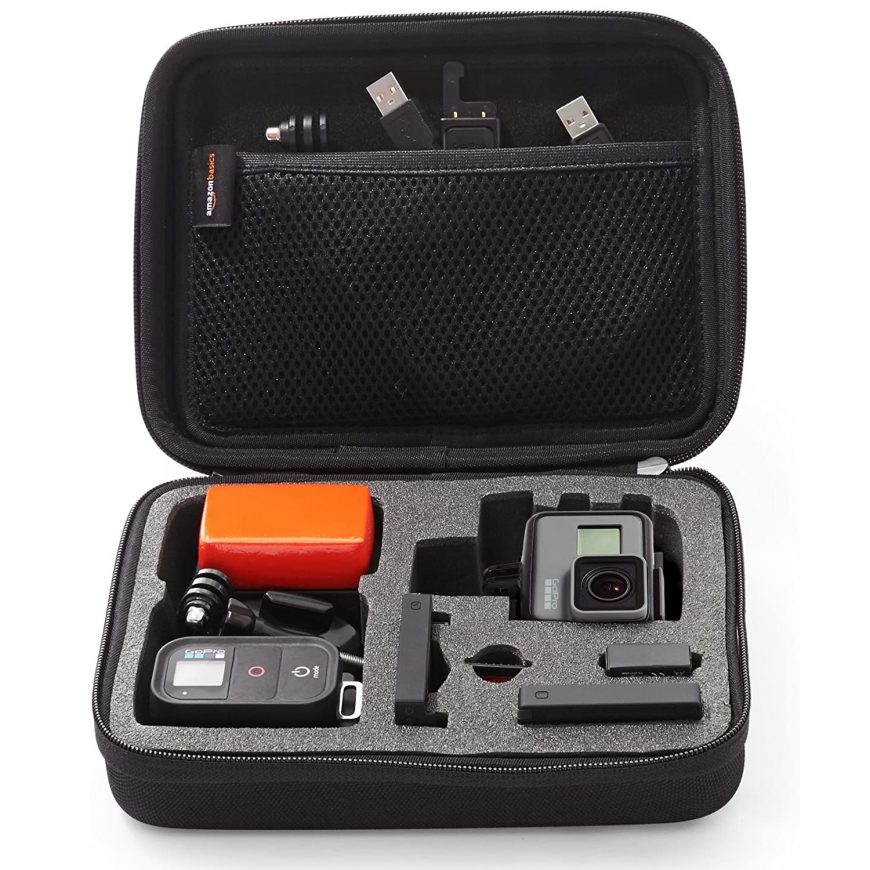 Price: MSRP $14.97
You did the right thing and got yourself a GoPro camera with a GoPro helmet mount, but most of the time it gets really heavy carrying the camera like that, it is also quite dangerous. With the AmazonBasics' carrying case, you would be able to carry not one but two GoPro cameras, mounts, remotes, and cables.
This whole carrying case is an inexpensive option, if you want, you can get two of them, they would just increase your storage options. This case is both suited for casual and professional riders, so if you are just starting out on this adventure then it is recommended that you go for the smaller sizes.
Advantages:
Amazing Value
Tons Of Storage Space
Affordable Price Tag
Disadvantages:
Normal Sizes Are A Bit Bulky
---
4. Kupton Tempered Glass Lens and Screen Protector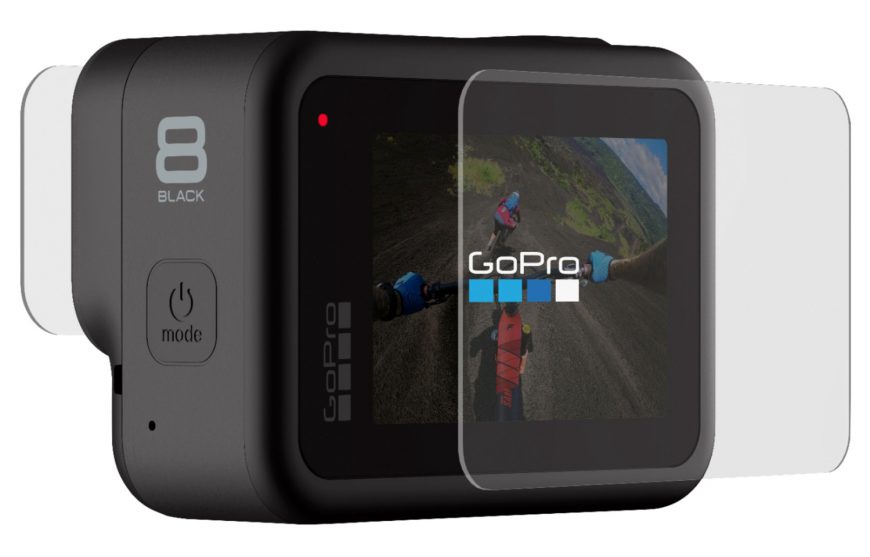 Price: MSRP $19
In this guide I told you about using the mount on different positions and also using different cameras at once, that is a great way of GoPro cycling but you also have to consider the risks. What if the cameras get damaged, or something gets stuck in them? GoPro redesigned their Hero8 camera, and when they did that, they took out the option of the removable lens.
As that was a gut punch, the cost of installing that kind of lens was too much, almost the cost of a whole new camera. We have a better option for you and that is the Kupton Tempered Glass Lens and Screen Protector. This can be easily applied to the lens of the camera, very similar to what we do to our phones.
It is one of the best accessories for the GoPro camera, do try it out if you want total safety for your camera.
Advantages:
Very Easy To Use
Amazing Quality
Affordable Option
Disadvantages:
Will Have To Get Two Separate Lens Packs
---
Related: Best Mountain Bike Helmets
FAQs
Question 1: How Do I Use My GoPro While Cycling?
Using the GoPro camera is very easy, just use different mounts for different camera positions. You can follow the methods that I used in my guide.
Question 2: Can I Use GoPro on any helmet?
You have to make sure that the area where you will attach the mount for the camera is flat, otherwise, the GoPro camera will just fall off. A similar sports helmet can do the trick here.
Question 3: Is GoPro good for cycling?
GoPro is amazing for cycling if you want to capture the footage and record all of your adventures.
Recap
GoPro cycling is amazing, it gives the chills and the thrills. This way you can record all of your wild adventures and share them with the rest of the world. Many people have problems when it comes to understanding the fundamentals of GoPro cycling, but that is exactly why we made this guide.
In this guide, we shared the different positions to mount the GoPro camera, the advantages, and disadvantages of the positions. We also shared some of the best accessories that you should get for your GoPro camera. We hope that after going through this guide, you have a really good idea about GoPro cycling. If you have any questions then reach out to us in the comments below!
Also Read: 15 Best Bikes For Heavy Riders