Let me make this one thing straight, there are a lot of cycling applications that make it hard to choose one and you don't actually have to choose one. From all of these options with different results, it can become pretty hectic going through all of them, that is why you have this review and guide.
Just like a bike cannot function without a wheel, the same case is with a cyclist regarding their smartphones. These smartphones can be Android or iPhone and both have brilliant applications that users can try out. There are more than 3 million applications on both the Play Store and Apple Store, and going through all of them is not humanly possible.
Cycling Applications To Make The Best Out Of
These Cycling Applications are used for a lot of reasons, you can use them to record how well your ride goes, monitor new training methods, and even improve. It is safe to say that without the best apps out there, it becomes almost impossible to bring out the best in you. From the best cycling app to a route-planning app, you are going to have a lot of fun going through our list.
With that being said, we have compiled some of the best applications for you. Some of these applications are paid while others are built around a freemium model, and all of them offer great functionality/usage.
Best Cycling Applications- Review 2023
In order to save our readers time, we have compiled some of the best applications that you need to take a look at right now. From applications that will help save lives in emergencies to applications that will bring out the best in us, we have all. So without further adieu, let's start!
1. Red Cross: Learn First Aid Effectively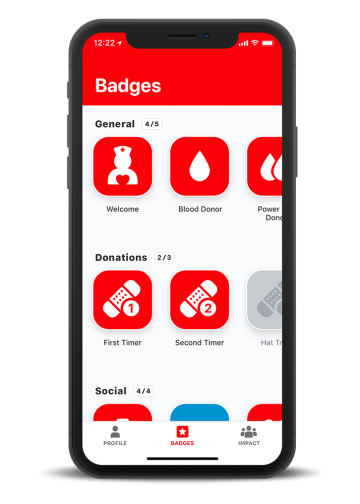 In moments of crisis, the first thing that we need to take care of is ourselves. That is why you need a reliable app in the case of emergencies, the Red Cross Guide will help the riders if and when they get into fatal accidents. The very first thing that you need to take care of is your health and safety, everything comes after and that is why the First Aid Application is here to help you out. This app can help you deal with bleeding (Both Internal and External), head injuries, and broken bones.
Using this app is very easy but it is recommended that you get familiar with it first. Navigate through the app, and check how you can use it effectively when you are out riding. Even if you open the app when you are out for the first time, there should be no problems using it. We love how much the app is easy to use, even if people are using it for the first time.
One of the best things about this app is the tests, they test your knowledge for emergencies, and some of the tests even give you knowledge should there be a problem. You can take these tests and add/improve upon your knowledge. As I am a user of this application myself, there are a lot of first aid techniques that I have learned, this application has saved me from trouble countless times.
You won't be needing an internet connection for the app as all the information is already added there. The only thing that you might need to be careful about is the language that varies in your region. This is a very helpful app that you should have on your phone, whether you cycle or not!
2. Windy: Weather Forecast
Price: Free (Premium Version Also Available)
OS: Android, iOS
Website: windy.com
Preparation is the key when heading out for a ride, you need to take care of yourself and the ride. Checking the weather forecast is very essential and that is why Windy is here for all the information you will need. Why we chose Windy? Windy is the best weather forecast app that you can find, it has all the critical information that you will be needing. Even the colored visualizations are fun to watch and are also intuitive. We are hopeful that once you get used to this app, you can plan your own routes without problems.
One of the main reasons why we included this app is because of its precision. You can trust Windy to always give you precise and accurate data no matter where you are. Although it is free to use, it provides you with 40 different kinds of metrics, many of which are: temperature, rain, wind, humidity, pressure, and much more. The app is definitely free and everyone can use it but there is also a premium version available if you pay for it then you can get the newest information at an interval of 1 hour daily. If you are a professional cyclist then subscribing to the premium version will actually give you a lot of benefits.
If you are doubting the validity of this app then you should know that it is used by professional pilots, sailors, and professional cyclists, almost everyone can vouch for this app. The free version is good but as we mentioned earlier, it is better to get a premium subscription if you plan on becoming a professional cyclist.
3. Komoot: Plan The Best Route Ahead
Price: Singular Map Region Free (Other Regions Are Priced Accordingly)
OS: Android, iOS
Website: komoot.com
Route Planning is a vital part of the preparation and you cannot enjoy your rides if you don't plan ahead. If you are looking for the best route planning then you need to take a look at Komoot. It is an app that is greatly used by hikers, runners, and bikers, you get one map region free upon installation. This is a good way to round up people, if you want to try out the other regions then you would have to subscribe. Weather data also comes with this so that is always a plus!
Planning ahead and the type of activity that you will be doing are related, that is how the app will give you the required results. Choosing a road bike or a mountain bike is going to give you different results. For example, if you choose a road bike to begin with then you are going to get tarmac surfaces as routes. Similarly, if you choose mountain bikes then you would have to select the mountain bike option- this will give you rougher terrain options. Even though it shows a virtual world, you can link the app to google maps to get even better results.
The estimated time required to complete a route will depend on your fitness level, I personally think that is a very slick addition. The route profile visualization is also great, you can also opt for voiceovers if you want them for your routes. Be sure to give this amazing app a try!
4. TrainingPeaks: Take Your Performance To Another Level
Price: Free (Premium Subscription Available)
OS: Android, iOS
Website: trainingpeaks.com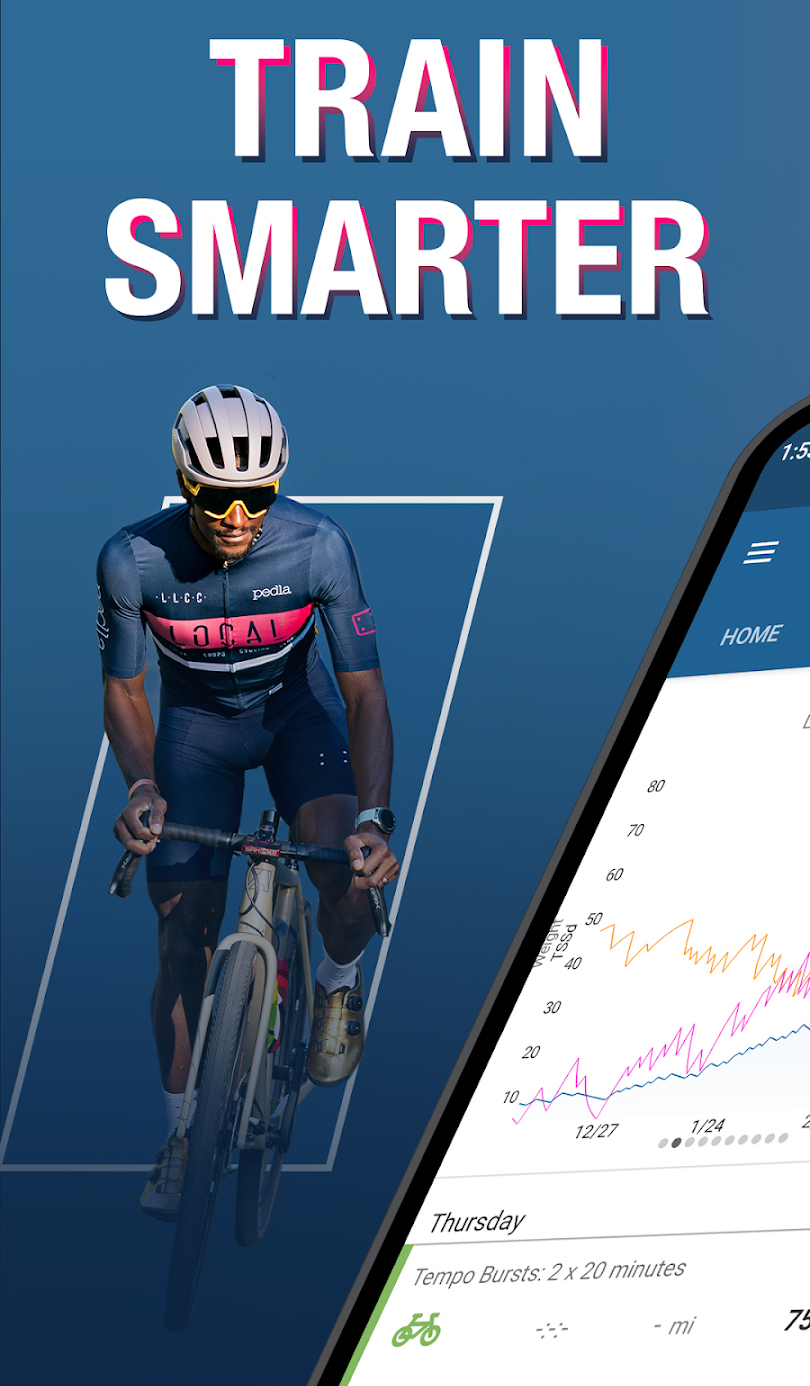 If you are looking to take your performance to the next level then you need to give TrainingPeaks a try. This app will make sure that your performance is improved in no time. What does it offer? TrainingPeaks offers power tools, plans for certified coaches, and much more.
When you first install the app, there are a bunch of options that you can choose from. You can choose to go with a coach or a training plan, both of these options have their own benefits. In order to track your performance with precision, you can connect other apps like Zwift and others. In simple words, there are a lot of options that you can go with.
Feedback is very necessary, which means that connecting with another app is also important. After every kind of workout, you will be getting detailed feedback which is critical for improving performance.
If you plan on taking the next big step with this step, which is going for a trainer then you would have to pay for it. Opting for a premium subscription is also a good plan if you are thinking of investing in this app. The benefits and results are surely there, you just have to put in the necessary work.
5. Strava
Price: Free (Premium Subscription Available)
OS: Android, iOS
Website: strava.com
There is no cycling app list that can be completed without Strava, I mean this is the very first app that I installed on my phone when I started cycling. This is an app that will fuel your motivation, your performance, and almost everything. If you want to track your cycling activities and interact with other cyclists which also includes professionals then there is no better app than Strava.
In the start, Strava was all about cycling but it has become so much more than that now. You can track more than 30 different sports with Strava now which is just crazy. If you want to become a better version of yourself then I highly suggest using the Strava segments. These segments can be created by you or you can use the already created ones by others, these will allow you to complete activities in the fastest time possible. When an activity is done, it can be compared with others for a full benchmark.
Strava is more than just a cycling computer for your phone, you can even attach a GPS app with this and record your data precisely. The real-time features are also great, they tell you how fast you were at a selected segment. Even if you are giving your best at a very hard climb, all the data will be recorded as it is. This new feature also works great with the new Wahoo computers.
6. Wahoo Fitness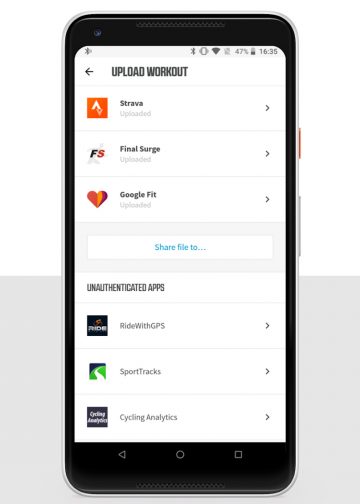 Wahoo Fitness is one of the best apps to go for if you want to keep your fitness a priority. We chose Wahoo Fitness because it also plays very nicely with others, you can pair it with whatever device or app that you like. It can be easily paired with BlueTooth devices and ANT+ devices, speed sensors, heart sensors, whatever you name and think of.
Uploading the data also comes really easy, this is a great advantage of the apps which safeguard the data too much. You can easily upload all of the data on all the apps, examples include Strava, TrainingPeaks, and much more. You can even convert your data into the different formats that are listed.
The number-heavy presentation is going to please all fitness enthusiasts, there are multiple customizable pages of data that you can go through. Power, speed, heart rate, everything is there. You can also try the GPS map that comes with the app, although we would advise you to refrain from it as it drains the battery very quickly.
7. Zwift: Indoor Training Like None Other
Price: Paid
OS: Android, iOS
Website:zwift.com
If you have ever planned about training indoors or indoor racing, then Zwift is the best app to go for. From indoor training to indoor racing, this app can handle it all, it uploads and calculates your data with the utmost precision. With Zwift, you can train whenever you wanted, this proves to be a big help when summer ends.
One of the best things about Zwift is that it makes training very fun and engaging. You can train with your friends or alone, regardless of anything, you will have a lot of fun. Having Zwift installed also makes you competitive, you are always thinking of doing your best the next time around.
In order to get started, you will be needing a power meter or a smart trainer, without all of this there is no training with Zwift. As much as all of this is essential, the training and results from Zwift are going to be worth it. In just a short amount of time, you will see that your performance drastically improves.
Zwift is always planning on giving the best to its users, currently, users can choose from 1000+ different workouts, 130+ different routes, and 10 worlds. In order to make the best out of it, make sure to use the app on large screens.
8. Cronometer: Nutrition Tracking Made Easier
Price: Free (Premium Subscription Available)
OS: Android, iOS
Website: cronometer.com
Taking care of your nutrition is also very important, fitness is not just related to cycling, you have to make amends within yourself too. Cronometer allows you to take better care of your nutrition so that you can perform better. Tracking comes so easily with Cronometer, you would just be surprised how well it manages your data.
Feeding your data into the app for the first time can feel like a chore but the results are all worth it. You just need to know how the app works and the parameters, after that everything becomes easy. The developers of this app did their best to make things easy for you, which is why you can just choose from the pre-planned meals. There would be no need to fill in your data all the time.
Cronometer is an app that works best in the long term, with enough progress you will see changes in your metrics like body weight and fat percentage. We recommend opting for premium subscriptions as that makes everything much easier.
9. Bike Repair- Easy Repairs For Newbies
Price: Paid
OS: Android, iOS
Imagine riding your expensive bike for the first time and it just breaks down on the road, that would be straight up terrible. Bike repair is like a death sentence for newbies, the lack of information and the discomfort just zones them out. With that being said, with the bike repair app, all of these problems are going to be crushed. There was once I time when even changing a tire seemed like a herculean task for me, but all of that has now changed.
With the bike repair app, you will become a professional in no time. There are tons of guides and tips that you can check out on the go. As of right now, there are 58 repair guides and 95 tips and tricks, my advice would be to go through all of them.
Bike Repair also tells the users how to dress for the occasion, if they want to go mountain biking or just casual road biking. There are plenty of other tips too that you can enjoy.
10. TDEE: Find Total Daily Energy Expenditure
The Fitness Volt TDEE Calculator is an online tool that offers users an easy and efficient way to estimate their Total Daily Energy Expenditure (TDEE). By inputting personal information such as age, gender, weight, height, and activity level, users can quickly calculate their daily caloric needs to maintain, lose, or gain weight. The calculator provides accurate results and helpful guidance on achieving fitness goals, making it an excellent resource for individuals at all fitness levels, including cycling enthusiasts.
For cycling lovers, the TDEE calculator is particularly beneficial as it helps them understand their specific caloric needs, which directly impact their cycling performance and endurance. By tailoring their diet based on the TDEE results, cyclists can optimize their energy intake, improve recovery, and ultimately enhance their overall cycling experience. Furthermore, the Fitness Volt website offers a plethora of articles and resources on training, nutrition, and fitness tips, providing valuable information for anyone looking to improve their cycling performance or general health.
11. TrainerRoad: Your Online Personal Coach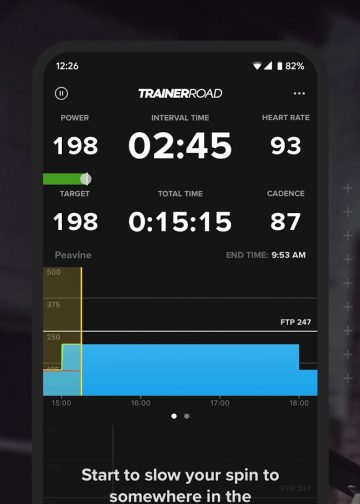 If you are looking for an amazing online trainer or fitness app, then you need to check out TrainerRoad. This is the closest that you will be to having a cycling coach, so you need to take this app pretty seriously. As much as this application is demanding, it also offers amazing results, as long as you are willing to put in the work for it.
The app is filled with structured workouts and training plans, it feels like having an online coach without having to pay a coach. The technology used by this app is just so advanced, it uses AI FTP Detection, Customized Plans, and Machine Learning to create different training plans for you. Your specific goals are going to be met with extreme prejudice, just make sure to give your best.
With TrainerRoad, you get access to over 100 different plans and 100+ workouts. You can even use the custom workout creator to create almost every kind of workout. Although it is the most expensive option in this guide, it also delivers the best possible results. There's no free trial, but if you don't like the app after a month or just don't get the required results then you can get a refund.
12. MapMyRide
Price: Free (Premium Subscription Available)
OS: Android, iOS
Website: mapmyride.com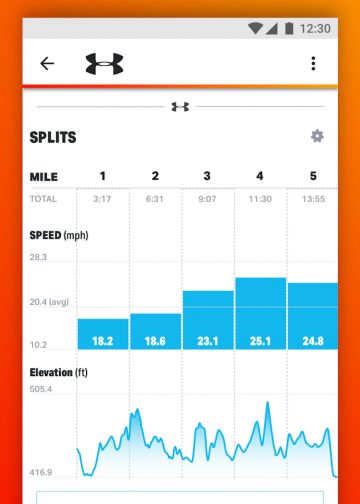 When it comes to route-mapping software, there are only a few applications that can match the performance of MapMyRide. This app does more than just map your routes, it also keeps a track of your weight, nutrition, and more. Just be sure to add your exact details and experience the magic afterward.
You can easily rely on MapMyRide without any kind of problems, it will always make sure that you reach your destination. Users can try out the free version first and if they really like it, you can upgrade to the premium subscription. You will get to experience a lot of benefits in the paid version of the app, some of them are dedicated training plans, and advanced routing options, there is also an option to share your live location with your friends and family so that they can track you. Another great reason to get the paid version is that you won't have to deal with annoying advertisements.
13. Google Maps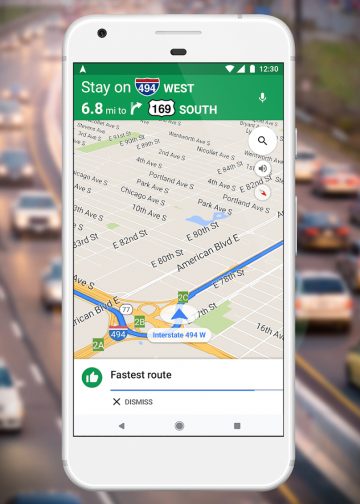 When it comes to mapping applications, Google really has no competition, you can totally rely on Google Maps to get you to your destination without any kind of problems. The magic of Google Maps is that is serves as more than just a mapping application.
Here is one of my own personal examples, I wanted to try out a new Japanese restaurant in my area. Since I didn't know much about the restaurant I was quite skeptical, but once I checked out the reviews on Google Maps, it made me crave the restaurant even more. Another example for you guys, I had accidentally laminated my important documents, I tried everywhere but couldn't find a person who could de-laminate my documents, and this is when Google Maps came to my rescue again. No matter what you do, you should definitely make use of Google Maps, one of the best parts about the application is that it is totally free!
How We Chose The Best Cycling Apps For Phones
Cycling apps are necessary, but there are no "Best Applications", this is what you have to acknowledge. Each of the apps has a certain role to play, there are many people that will not go with our options, while there are also some that will be glad over our picks. Your needs and your wants will certify the best kind of app for you.
With that being said, there is a certain criterion that each app has to play. If all of these aspects are fulfilled then it is considered a good app with a lot of benefits. Here are the aspects that you need to know!
Ease Of Usage
Cycling apps need to be easy to use, period! A user-friendly design is what matters the most, if your user can't navigate through the app easily then you have failed. Whenever people install the app, they want to get familiar with it within a couple of hours, not a couple of days.
Design and usability should be a top priority when looking for a cycling app. Take a trial version of an app for a spin, explore and if you like it then go for the paid version. Simplicity in apps goes a very long way!
Price Factor
We cannot stress this enough, but the price of a cycling app really matters. If the app is free then definitely go for and if it is paid then you check it out first. If a free app has more features and accessibility than a paid app then you know which one you should go for.
Assess the apps carefully before purchasing.
Data Security and Privacy
In this world of technological advancement, concerns over data and privacy are increasing. Data can easily be hacked, if it is a paid app then your bank details can be compromised if the app ever gets hacked. For most people, data privacy is also very important.
Operating System
The best-operating systems out there are only Android and iOS. We are not considering the other kind of operating systems because of their popularity. Almost all the applications are now available on both Android and iOS, if the app is not available for your system then it is just not for you!
Should You Buy Premium Applications?
The answer to this question will depend on your personal preference, can you make do with the free version or do you want something extra? There are several applications that offer exclusive features with their premium subscription. Some of those applications are MapMyRide and Cronometer, you can try them out!
Is the premium subscription to free applications worth it? Another question that you will depend on your choice. Do you want to go beyond the features that are provided? My personal advice would be to try the premium subscription for one month, if you really feel a difference and if the exclusive features help out more then go with it! If not, you can always revert your premium membership.
FAQs
Which Is The Best Application For A Cycle Ride?
There are tons of applications that you can use for cycling. Some of our best picks are:
Strava
Zwift
MapMyRide
Google Maps
Are There Free Cycling Applications?
Yes, there are many free cycling applications that you can use. These applications range from route mapping to first aid. Some of the top free applications are:
Google Maps
Cronometer
Wahoo Fitness
Can You Get A Dedicated Workout Plan From TrainingPeaks?
TrainingPeaks does a lot more than just giving workout plans, you can try them to improve your cycling performance to the next level.
Also Read:
Recap
Cycling Apps allow you to have all the fun while also becoming a better version of yourself. There is no denying the advantages that they give you, they certainly take your performance to a whole new level. In this guide, we listed some of the very important apps that you should have while cycling. These apps will help you with emergencies, which include first aid and bike repairs. Our friends at Cycling UK are already making the best use of these apps, and with the right training app, you can make your bike ride even more enjoyable.
If I had to share my favorite applications from the list mentioned above, then my top picks would be:
Google Maps
Red Cross
Windy
TrainingPeaks
Zwift
Bike Repair
There are also some applications that allow you to train to new heights, this includes Strava and Zwift. With apps like cronometer, you can also keep an eye out for your nutritional needs. We also discussed the different aspects that you should know about when choosing a cycling app. Have you chosen an indoor cycling app for yourself? Let us know in the comments below!